Press
EW Praises "Fly"; Breaking Bad Casting Directors Share Secrets, Stories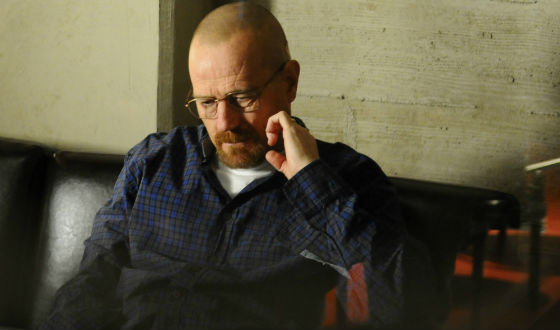 This week, Entertainment Weekly deems "Fly" one of the best bottle episodes on TV, while Breaking Bad's casting directors talk about what their job was like, especially as the show got more popular. Plus, Gold Derby breaks down Bryan Cranston and Anna Gunn's Emmy chances. Read on for more:
• Entertainment Weekly ranks Season 3, Episode 10, "Fly" one of TV's best bottle episodes, asserting that Bryan Cranston, Aaron Paul and Rian Johnson (the director) "imbue it with enough vigor and even comedy that the hunt for the fly starts to stand in for the series as a whole."
• Breaking Bad's casting directors tell E! Online they didn't cast big Hollywood names because "often great actors that we find, America doesn't really know and will believe that they are real."
• In more casting talk, Casting Director Sharon Bialy explains to NorthJersey.com that Dean Norris got the part of Hank because it "was the role he was born to play."

• GoldDerby weighs the pros and cons of Bryan Cranston's Emmy submission, Season 5's "Ozymandias" (where he "gets to show great range as an actor, from desperation in trying to save Hank's life to coldness in telling Jesse the truth about Jane").
• Similarly, GoldDerby discusses Anna Gunn submitting "Ozymandias" for the Emmys and concludes she could repeat as an Emmy winner "thanks to that knife scene" in the episode.
• Also, GoldDerby takes a look at Aaron Paul's Emmy chances, noting that his submitted episode, "Confessions," has "two very powerful scenes that could easily seal his third Emmy."
• Bryan Cranston tells Deadline that Breaking Bad went out on top creatively and if "we were able to go out on top from an awards point of view that's the cherry, that makes it so much sweeter."
• Den of Geek defends Anna Gunn's Skyler, observing, "There's an overwhelming amount of Skyler-hatred out there, when she's by far the most defensible character of the lot."
• Starpulse was immediately addicted to Breaking Bad because Vince Gilligan "created a show probably as close to perfect as one can get."
• Gold Derby highlights Emmy nominees that are currently available on Netflix, including Breaking Bad.
• Refinery29's favorite disguises employed by celebrities at Comic-Con include Bryan Cranston donning a Heisenberg mask at last year's event.
• The Oregonian is excited about CBS' Battle Creek, created by Vince Gilligan, noting that the pilot "has the quirky humor Gilligan also managed to weave into Breaking Bad, amid the darker turns."
• According to The Hollywood Reporter, Giancarlo Esposito is joining the cast of The Jungle Book, a live action/animation movie version that will be released in October 2015.
• It's also been announced that Giancarlo Esposito has been cast in a musical drama called Stuck, Deadline reports.
• The (Charleston, S.C.) Post and Courier reports that RJ Mitte will be the keynote speaker in October at Blackbaud's annual conference for the nonprofit industry.
To stay up-to-date on the latest news about Breaking Bad, sign up for the newsletter Breaking News.
Read More