Press
BuzzFeed Lists 34 Breaking Bad Facts; NBC News Says Breaking Bad is Most Binged Show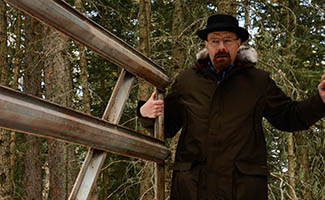 This week, BuzzFeed created a list of "34 Things You Probably Didn't Know About Breaking Bad," while NBC News and Gawker post the results of a study naming Breaking Bad the most binge-watched television show. Plus, Gold Derby analyzes the odds of Breaking Bad taking home Emmy Awards this year. Read on for more:
• BuzzFeed lists the "34 Things You Probably Didn't Know About Breaking Bad", which includes that Aaron Paul has never had any acting lessons and George R. R. Martin called Walter White "a bigger monster than anyone in Game of Thrones."
• Breaking Bad is the most binge-watched show according to NBC News and Gawker, beating out House of Cards and Game of Thrones for the top spot in "overdosed" television.
• Gold Derby says the odds are very good for Breaking Bad to sweep the Emmys this year and break the "final season curse", listing the series as one of it's top contenders.
• Latin Post also thinks Breaking Bad and Bryan Cranston could keep up the streak of Emmy wins despite the steep competition.
• TV Guide includes Breaking Bad and Bryan Cranston on its "Dream Ballot" for Emmy nominees.
• The Houston Chronicle reports of a telenovela version of Breaking Bad called "Metastasis," a nearly shot-for-shot remake of the original but set in the desert of Colombia.
• Home Media Magazine highlights the release of Breaking Bad: The Complete Series DVD set, which will feature the bonus documentary No Half Measures: Creating the Final Season of 'Breaking Bad' and other exclusive content.
• Entertainment Weekly, Multichannel News, Detroit Free Press, and the San Diego Union-Tribune tout the Breaking Bad Binge event coming August 10, in which AMC will air consecutive episodes from 5PM to 1AM ET/PT on Sunday nights.
To stay up-to-date on the latest news about Breaking Bad, sign up for the newsletter Breaking News.
Read More