Press
Breaking Bad Wins TCA's Program of the Year Award; Sundance Spotlights Anna Gunn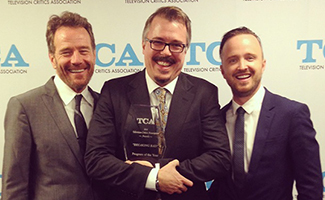 This week, Breaking Bad is all over the news with its second consecutive win at the Television Critics' Awards, while Sundance looks back at Anna Gunn's best TV roles. Plus, Times Higher Education spotlights Walter White in the anti-hero phenomenon. Read on for more:
• A.V. Club reports on the Television Critics' Award winners and how Breaking Bad won the night's highest honor, the "Program of the Year" award. Plus, Bustle has an excerpt from Bryan Cranston's acceptance speech. The Celebrity Cafe, Contact Music, The Colorado Springs Gazette, E! Online, MySan Antonio, TV.com and TV Line also recount Breaking Bad's win.
• The Television Critics' Association president writes about Breaking Bad's win in The Salt Lake Tribune.
• Sundance revisits Anna Gunn's "Top Five TV roles" in the wake of her most recent Emmy nomination.

• "What lies behind our fascination with imperfect heroes?" asks Times Higher Education, spotlighting Walter White.
• Brand-E reports that Breaking Bad tops the list of "Most Binge-Watched" television shows, along with AMC's very own The Walking Dead.
• Irish Independent includes Breaking Bad on its list of "The Top 10 Most Shocking Character Deaths." For those binge-watching now, beware of spoilers ahead.
To stay up-to-date on the latest news about Breaking Bad, sign up for the newsletter Breaking News.
Read More