Press
Breaking Bad Emmy Nods Make News; Bryan Cranston To Star in TV Version of All the Way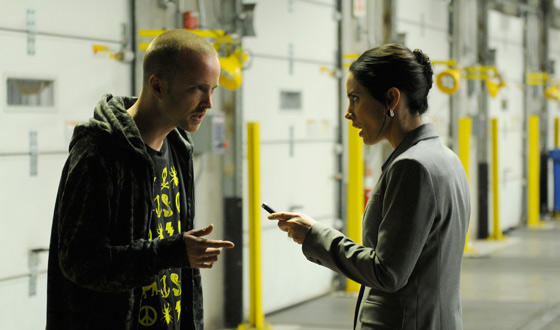 This week, Breaking Bad's Emmy nominations make lots of news, while Bryan Cranston is slated to star in a TV version of All the Way being produced by Steven Spielberg. Plus, Cranston leaves a farewell message in his dressing room for the next occupant. Read on for more:
• The Los Angeles Times calls Breaking Bad's best drama Emmy nomination "virtually a foregone conclusion."
• Deadline reports that Bryan Cranston will star in an HBO Films version of All the Way — for which he won a Tony for playing President Lyndon Johnson — being produced by Steven Spielberg.
• GoldDerby describes the best drama actor Emmy competition between Bryan Cranston and True Detective's Matthew McConaughey as the "ultimate Emmy heavyweight bout." Indiewire thinks it will be "Bryan Cranston all the way, for the final season."

• Yahoo learns that Aaron Paul was "dead asleep" in Georgia, where he's filming a movie, when the Emmy nominations were announced.
• Bryan Cranston's Walt and Anna Gunn's Skyler are only one example of TV couples that are nominated for Emmys, says USA Today.
• Wired is convinced that Breaking Bad will triumph at the Emmys, noting, "Some foregone conclusions are the correct ones, and Breaking Bad winning one more Emmy for best drama series is one of them." It's also backing Bryan Cranston for best drama actor since "Heisenberg may be the one who knocks, but Bryan Cranston is the one who wins."
• Broadway.com reports on the farewell message left by Bryan Cranston in his dressing room at the American Repertory Theater in Cambridge, Mass.
• Moira Walley-Beckett speaks with The Vancouver Sun about being nominated for an Emmy for outstanding writing for Season 5's "Ozymandias," which has been called "the best television episode ever written."
• The Albuquerque Journal details each of Breaking Bad's 16 Emmy nominations.
• Breaking Bad is nominated for a Fandom of the Year Award in the TV drama category, according to The Hollywood Reporter.
• TVGuide.com reports that Giancarlo Esposito will return to ABC's Once Upon a Time in the Season 4 premiere.
• The Indianapolis Star interviews Lavell Crawford, who talks about being on Breaking Bad and "going down in the history books as being on one of the greatest television shows."
• A.V. Club notes that "many roots of modern television run back to the classic Western," citing Vince Gilligan as an example of a showrunner who was influenced by the genre.
• SundanceTV has clips of Vince Gilligan from The Writers' Room with his "insider secrets and expert opinions."
To stay up-to-date on the latest news about Breaking Bad, sign up for the newsletter Breaking News.
Read More