Press
Vince Gilligan Talks to TheWrap About Show Finales; Aaron Paul Chats With Reuters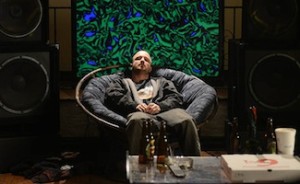 This week, TheWrap speaks with both Vince Gilligan and Aaron Paul, while Paul also has a chat with Reuters. Plus, Gilligan has been named a co-showrunner for Better Call Saul. Read on for more:
• TheWrap interviews Mad Men's Matthew Weiner and Vince Gilligan, who says to Weiner, "Man, the last year and a half before the end of Breaking Bad, I couldn't sleep at night. Hopefully you're not having it as bad as I had it."
• Aaron Paul tells Reuters he'd like to try directing and that he would have liked to helm a Breaking Bad episode, but "it deserves someone who really knew what they were doing." Talking to TheWrap, Paul says of the series finale that "killing Todd was awesome. I'm so happy that I had to kill Todd and that Todd didn't shoot Jesse in the back of the head to something."
• HitFix reports that AMC has renewed Better Call Saul for a Season 2 and that the spin-off will now air in early 2015 and will get Vince Gilligan as a co-showrunner.
• The Hollywood Reporter takes a look at how Rian Johnson, who's in talks to direct and write some of the Star Wars franchise, directed episodes of Breaking Bad that are "consistently talked about as among the series' best."
• Talking to TheWrap, Dean Norris describes Breaking Bad as "a show about dying, failure in life, fathers and sons. Oh, and it's really scary, really visceral and really, really funny."
• According to Variety, Breaking Bad and Aaron Paul triumphed at the Critics' Choice Television Awards ceremony, in the best drama series and best supporting drama actor categories, respectively.
• TV Guide's dream Emmy ballot for the lead drama actor category includes Bryan Cranston, who closed out Breaking Bad's run in "yet another towering turn."
• HitFix wants Bryan Cranston to get an outstanding drama lead actor Emmy nomination because "Ozymandias" features "some of his very best work in one of the all-time great TV roles and performances."
• Laura Fraser tells TheWrap that she might pick "Madrigal" as her Emmy submission if she gets a nomination.
• NBC News reports that Breaking Bad is the most binge-watched show, according to a TiVo study.
• Bryan Cranston cautions Variety that directing episodes as an actor means "you have to really know what your character wants and how to project it because you don't have a director's objective viewpoint on your acting work."
• In A.V. Club's Tournament of Episodes, "Ozymandias" beats out a Girls episode, "Beach House," because both are "worth watching, but only one will haunt my dreams."
• CBS News learns from Bryan Cranston that there's "nothing else like working onstage because you can feel the audience, moment to moment, and it affects your performance."
• Aaron Paul talks to The Huffington Post about how working in independent film is similar to Breaking Bad.
• Bill Burr talks to Creative Loafing Atlanta about Better Call Saul, saying, "I can assure you I'll watch every episode of that. If Vince Gilligan is guiding the ship, he'll definitely do something great."
• The Lexington (Ky.) Herald-Leader speaks with Lavell Crawford about his fans: "I've had old white ladies who would call the police if they seen me in their neighborhood come up to me and say, 'I thought you were hilarious.'"
• According to The Hollywood Reporter, Christopher Cousins has been cast in Matador, a thriller that will air on El Rey Network.
To stay up-to-date on the latest news about Breaking Bad, sign up for the weekly newsletter Breaking News.
Read More