Press
EW's Top TV Scene From Breaking Bad; Vince Gilligan on Shooting Series Finale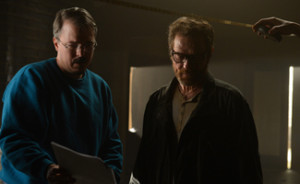 This week, Entertainment Weekly's list of the season's best TV scenes is topped by an "Ozymandias" sequence, while Vince Gilligan discusses with The Hollywood Reporter the special challenges of shooting the series finale. Plus, Variety spotlights Aaron Paul and the role that made him a star. Read on for more:
• Entertainment Weekly's No. 1 scene on TV this season took place in Season 5's "Ozymandias" when Walt tried to get his family to run, noting, "You could argue that the whole series was building to this moment."
• Vince Gilligan talks to The Hollywood Reporter about the challenges of filming the shootout in the series finale, including having "only one take at this thing. What if a camera broke down or a light failed? We'd have been screwed."
• Variety spotlights actors, like Aaron Paul, who landed a supporting role that propelled them "into full-fledged stardom."
• Vulture gives Walt the award for TV's best villain, observing, "We see a little of ourselves in him, and that's precisely why we should fear him most."
• "Ozymandias" triumphs over True Detective's "The Secret Fate Of All Life" in round one of A.V. Club's Tournament of Episodes, noting that the Breaking Bad episode's "strength is in its bluntness."
• Vulture learns that the tentative title of Bryan Cranston's memoir is Say My Name, a callback to a classic Walt line.
• Variety says a supporting actor Emmy nod for Aaron Paul is "all but guaranteed", while Dean Norris, whose "tragic death in the final season was a heartbreaking moment," could also get one. Also, Anna Gunn is "widely expected to repeat her win" in the supporting actress category.
• Meanwhile, The Hollywood Reporter thinks Breaking Bad, Bryan Cranston and Aaron Paul will definitely nab Emmy nominations — and that Dean Norris is "very deserving" of one. It also wonders if this is Anna Gunn's year.
• The Hollywood Reporter adds that AMC's most likely Emmy contenders include Breaking Bad, which "nabbed a finale-fueled victory" in the drama series category last year.
• HitFix thinks both Aaron Paul (who "had enough opportunity to shine") and Dean Norris ("raw and powerful") should get best supporting actor Emmy nods. Anna Gunn's work in Season 5's "Ozymandias" should "make her virtually unstoppable as a repeat winner," HitFix adds.
• TV Guide nominates Dean Norris for a drama supporting actor Emmy nod, applauding him for "masterfully going toe-to-toe with Bryan Cranston as the show's sole good conscience."
• Gold Derby says that, according to The Huffington Post's entertainment editor, Breaking Bad will prevail in the Emmy race, and Bryan Cranston will walk away with the best drama actor award. TV Guide's Emmy expert also predicts a "farewell" win for Breaking Bad.
• Yahoo TV declares that Michael Bowen (Uncle Jack) deserves an Emmy nod because he gave life to a character that was "mesmerizing to watch on a show that was 100 percent lean-in viewing, 100 percent of the time."
• Speaking with Seth Meyers, John Oliver compares FIFA, soccer's governing body, to Walter White because it's "awful, but the product they push is amazing."
• During Aaron Paul's TODAY Show appearance, Al Roker jokes about a happy face on the weather map near Arizona that must have "got some of Walter White's stuff."
• Vulture reports that Anna Gunn attended the Tony Awards because she wanted to support Bryan Cranston, who won for lead actor in a play.
• MTV showcases an upcoming action figure of Walt with a broken, bandaged nose.
• Bob Odenkirk talks to Variety about Tim Heidecker and Eric Wareheim and what attracted him to their brand of comedy, "a mix of silliness and absurdity and smartness and some aspects of parody."
• A new promo for FOX's Gracepoint features Anna Gunn.
To stay up-to-date on the latest news about Breaking Bad, sign up for the weekly newsletter Breaking News.
Read More