Press
Bryan Cranston Triumphs at Tony Awards; RJ Mitte Pays a Father's Day Tribute to Walter White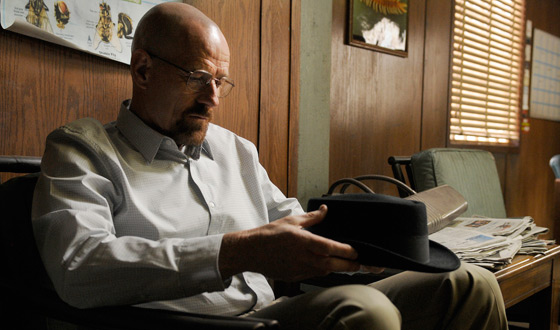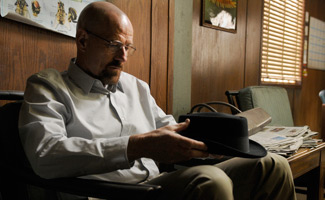 This week, Bryan Cranston adds to his awards haul with a Tony, while The Daily Beast interviews Dean Norris. Plus, Betsy Brandt tells The Hollywood Reporter about her most traumatic acting moment. Read on for more:
• Bryan Cranston, in his Broadway debut, wins the Tony Award for best lead actor in a play, according to the Associated Press. Bustle has a video of Cranston's "hilarious, yet moving" acceptance speech.
• Meanwhile, Bryan Cranston and Anna Gunn had a reunion at the ceremony, and Elle's alternative Tony Awards gives the Pendulous Prosthesis Award to the "sadly flapping earlobes" sported by Cranston in All the Way.
• RJ Mitte pays tribute on Made Man to his fictional father, Walter White, saying, "Most dads tell lame knock-knock jokes, but you, you are the one who knocks and for that we all thank you and wish you a Happy Father's Day." Time spotlights the tribute.
• Dean Norris tells The Daily Beast he got to keep Tuco's grill and the ax that the Cousins used to try to kill him, though "I try to keep it far away from my kids."
• Speaking with The Hollywood Reporter, Betsy Brandt says one of her most traumatic acting moments was having to tell Bryan Cranston's Walt to kill himself in Season 5, Episode 11, "Confessions."
• Aaron Paul, as part of a Variety supporting actor roundtable, says he was attracted to Breaking Bad because he was "so blown away by the characters and the story that they were attempting to tell."
• Bryan Cranston, asked by Maxim how Walt would fare against Tony Soprano and Don Draper, is confident that, "when the dust settled, coming out of that cloud would be Walter White."
• Variety reports that Bryan Cranston's production company will develop The Dangerous Book for Boys as a comedy series.
• Talking to MSNBC's Tamron Hall, Giancarlo Esposito says what attracted him to Breaking Bad was "hiding in plain sight, how many of us hide from ourselves and hide from our neighbors and are doing something else on the side."
• USA Today picks Breaking Bad as one of its best drama Emmy nominees because of its "near-perfect eight-part finale." It also chooses Bryan Cranston for a best actor nod ("obvious" and "deserving"), Aaron Paul and Dean Norris for best supporting actor and Anna Gunn and Betsy Brandt for best supporting actress.
• CarterMatt thinks Anna Gunn should get a best supporting actress Emmy nomination, observing, "We've always felt for Skyler White, but the greatness of this character is that she was never a sympathy figure."
• Meanwhile, CarterMatt nominates Dean Norris for a best supporting actor Emmy nod because he "really did some great work in the final season as we saw Hank's world and his life completely fall apart."
• Variety makes a case for why Breaking Bad could win an Emmy for single-camera picture editing.
• Complex suggests how viewers can dress like their favorite TV characters, including Walt with his pork pie hat, chinos and Oxford shirt.
• Indianapolis Monthly spotlights "Hoosier actor" Dean Norris.
• The Untitled Magazine puts RJ Mitte on a limited edition cover.
• Dual Pixels showcases Aaron Paul's commercial for the $399.99 Xbox One and Titanfall.
• This summer will see the release by Funko of Breaking Bad Pop! vinyl figures of the show's "most notorious characters, available in their most iconic attire."
• Starting in July, Breaking Bad collector coins will be available, according to Gotham News.
To stay up-to-date on the latest news about Breaking Bad, sign up for the weekly newsletter Breaking News.
Read More