Press
Bryan Cranston Talks to CNN; Breaking Bad Tops Nielsen Twitter Ratings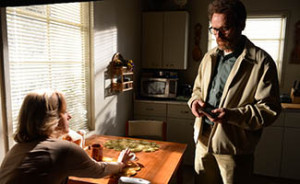 This week, CNN interviews Bryan Cranston, while Breaking Bad is at the top of Nielsen's Twitter ratings. Plus, Cranston wins a Drama Desk Award. Read on for more:
• Bryan Cranston speaks in-depth with CNN in three parts, about his various projects, his career path and, of course, Breaking Bad.
• Breaking Bad was the hottest TV show this season, according to Nielsen's Twitter ratings, The Wall Street Journal reports.
• USA Today and Variety report that Bryan Cranston won the Drama Desk Award for outstanding actor in a play for his performance as President Lyndon Johnson in All the Way on Broadway.
• Newsday thinks Bryan Cranston should and will win the Tony Award for best actor in a play. Entertainment Weekly agrees that Cranston is "a safe bet to win for his Broadway debut."
• Gold Derby calls Betsy Brandt the "underrated heroine" of Breaking Bad.
• According to the Orange County Register and Rotten Tomatoes, Breaking Bad's complete series became available on DVD and Blu-ray this week, in a version that has all the bonus material of the set that was packaged in a miniature barrel but comes instead in a standard slipcase.
• TVLine reports that Dean Norris will play Benjamin Franklin in History's six-part miniseries, Sons of Liberty.
• Variety says that Netflix will debut Bojack Horseman, an animated series featuring the voice of Aaron Paul (who's also an executive producer), on Aug. 22. USA Today has a trailer for the series.
• Backstage highlights nine great audition tapes, including Aaron Paul's audition for Breaking Bad, "one of the most beloved television shows of recent years."
• CarterMatt names Breaking Bad worthy of a best drama Emmy nomination, calling the final season "a triumph, and one of the best things on TV in the past decade."
• According to Broadway.com, Bryan Cranston was "welcomed to the theater community by legendary restaurant Sardi's," which surprised him with a portrait of himself for their wall of fame.
• Keegan-Michael Key and Jordan Peele tell Vulture it would be "a dream" to get Bob Odenkirk on their eponymous show on Comedy Central.
• TV Overmind chooses Bob Odenkirk as one of the acting MVPs of last week's episode of FX's Fargo.
To stay up-to-date on the latest news about Breaking Bad, sign up for the weekly newsletter Breaking News.
Read More