Interviews
Q&A – Aaron Paul Discusses His New Flick Hellion and His Hopes to Join Better Call Saul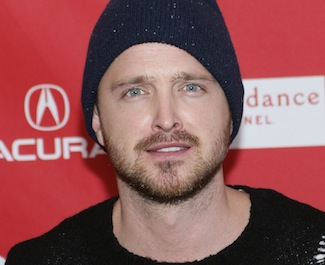 In this exclusive interview with www.amc.com, Breaking Bad star Aaron Paul talks about his latest film Hellion, in which he plays an alcoholic widower who struggles with a delinquent, motocross-racing son (newcomer Josh Wiggins) and a sister (Juliette Lewis) who believes she knows best. Paul discusses what it was like to play a father for the first time, his future as a producer, and his thoughts on the upcoming Breaking Bad spinoff Better Call Saul.
Q: The character of Hollis in Hellion is a real change of pace for you. What was it like to play your first father role?
A: It was definitely different, but it was a lot of fun. It was all pretty much on the page, so it was very easy. All the characters are so well-developed. That's the reason why I had to jump at the opportunity to do this. I just fell in love with the script.
Q: Did you draw inspiration from any other films that portray troubled fathers?
A: To be honest, not really. It was just the script. I didn't really need to take anything from anywhere else. Kat's direction — she kind of guided us the entire way.
Q: The motocross racing scenes feel pretty authentic. Were you a fan of motocross before the movie?
A: When I was a kid I used to ride little [1950s-style] small bikes. I think every young kid is a fan of motorbikes.
Q: You also served as a producer on the film. What about this movie made you say, "I have to help get this made"?
A: My heart lies in independent film. So when I read [writer/director] Kat Candler's brilliant script, I thought it was so beautifully honest. I just really connected to all these characters. So when she flew out to Georgia, where I was shooting at the time, to meet with me, after the first few minutes of talking to her face-to-face I knew I had to jump on this opportunity.
Q: Are you interested in doing more producing in the future?
A: Yeah, absolutely. That was my first hand at [producing] but it sort of paved the way for other projects. I have my first show [the animated series Bojack Horseman] coming out at the end of August.
Q: You seem like such a positive person; how do you channel these damaged characters? Particularly in Hellion, where you're playing a man who has lost his wife and is in danger of losing his sons.
A: Over the years, I've just learned you have to put yourself in that situation. You sort of force yourself to believe that those things are actually happening to you as that character. It's just really about knowing who the person is and knowing the story you're telling. The more you know, the easier it is.
Q: After playing Jesse for so long in Breaking Bad, has it been weird being away from him? Do you find his mannerisms creeping into other roles or into your daily life?
A: Not so much anymore. It's been over a year since I played him. I used to dream as if I were him. That was a little strange. People still call me "bitch" every day.
Q: Does that get weird at all?
A: No, I'm used to it.
Q: Could you see yourself playing Jesse again, possibly on Better Call Saul?
A: Yeah, if they'll have me, I'd love to be a part of it. I'm not sure if that's in the cards. I'm so jealous that everyone is back in Albuquerque, back in the same stages where we shot Breaking Bad. It's so strange to me that the Saul Goodman office has been rebuilt and they're shooting on it right now. I'm so happy for everyone involved.
Hellion hits theaters in New York on June 13th and Los Angeles on June 20th.
Read More