Press
Vince Gilligan Lauds Bryan Cranston for Walt's Complexity; Cranston Visits Tonight Show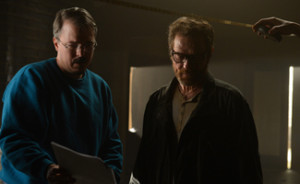 This week, Vince Gilligan credits Bryan Cranston for the complexity he brought to Walt, while Cranston shows up on The Tonight Show. Plus, one of Cranston's Broadway co-stars is joining Better Call Saul. Read on for more:
• Speaking with Australia's ABC News about Walt, Vince Gilligan says that "so much of the complexity and the nuance and the onion skin, onion layer-type characteristics of the character really needs to be credited to Bryan Cranston."
• The Tonight Show With Jimmy Fallon welcomes Bryan Cranston, who does his best LBJ impression to give Fallon the "Johnson treatment." Cranston also brings Fallon his ear lobe extensions from All the Way and plays "Word Sneak."
• Deadline reports that Michael McKean, who's currently co-starring with Bryan Cranston in All the Way on Broadway, has joined the cast of Better Call Saul.
• The New York Times talks up this summer's Godzilla remake, saying, "Oh, Bryan Cranston (meth king on television, L.B.J. on Broadway), if anyone can stop a giant radioactive lizard monster and make us see the folly of human scientific arrogance, you can. "
• Bryan Cranston, talking to PBS Newshour about playing President Lyndon Johnson in All the Way, says, "In three hours you see him go through a myriad of emotions. It's rare to be able to have a character of that scope."
• Dean Norris has booked a role in Remember, a thriller that will star Christopher Plummer, according to Variety.
• Quotes from Breaking Bad will adorn Sydney's trucks and bus shelters during the Sydney Writers Festival this month, Australia's The Daily Telegraph reports.
• Slate features The New Biographical Dictionary of Film's entry on Bryan Cranston, which describes Walt as "one of the most tight-lipped and impressive characters in modern fiction."
• According to The Hollywood Reporter, Sony's digital entertainment network, Crackle, has ordered Tightrope, a comedy series produced by Bryan Cranston.
• After attending a Vince Gilligan event at the Sydney Writers' Festival, Australia's The Age reveals "seven things you might not know about Breaking Bad," while Daily Life has its own list of "five things we learnt by hanging out with Vince Gilligan."
• The Guardian learns from Vince Gilligan that "part of what intrigued me about Walter White is he started off very much like me. He was very a plain, vanilla middle-aged guy, who was kind of boring. You'd walk past him in the street and not look twice."
• HitFix showcases the epic rap battle between Walt and The Walking Dead's Rick and hopes "this might could maybe happen on the show."
• Asked by Yahoo TV whether he'd appear on Better Call Saul, Giancarlo Esposito says, "Gus has his own breath, his own life, and if I could go back and do that or do more than one episode on Saul and really learn about Gus, I would do it."
• The Dallas Observer talks to Steven Michael Quezada about his career as a stand-up comedian and how playing a law enforcement officer on Breaking Bad was "cool, a Latino playing a cop and not playing a gangster or a drug dealer or anything, that was exciting for me."
• Science interviews Breaking Bad's science consultant, Donna Nelson, who marvels that "the science really took front stage sometimes" on the show.
• Bryan Cranston's Broadway debut in All the Way is rewarded with a Theatre World Award, Playbill reports.
• The New York Review of Books compliments Bryan Cranston as LBJ in All the Way, writing, "What makes this energetic if not frenetic production work is the stunning performance of Bryan Cranston as Johnson."
• The Guardian explores the best musical surprises from TV dramas, including Marty Robbins' "El Paso" in the Breaking Bad series finale.
• Chicagoist attends RJ Mitte's panel at the Chicago Comic and Entertainment Expo and concludes, "I found him funny, smart and genuine and look forward to his future projects."
• Rotten Tomatoes recommends a marathon of Breaking Bad, "one of the most binge-able shows in the history of television."
• Bryan Cranston, along with his All the Way co-stars, met with New York City student leaders and shared that Walt and President Lyndon Johnson were "two dynamic men with tremendous determination and goals who had also had enflamed egos, which ultimately was their downfall," according to the Associated Press.
• On PBS Newshour, Bryan Cranston fields viewer questions, including one about Walt's influence on Cranston.
• Wired features an autophile's portfolio of movie car posters, including one of Walt's Pontiac Aztek.
• There's a Kickstarter project for Breaking Bad-themed playing cards, according to Technology Tell.
• The Toronto Sun suggests a few TV shows that might make Netflix's looming price hike worthwhile, including Bojack Horseman, an animated series featuring Aaron Paul's voice.
To stay up-to-date on the latest news about Breaking Bad, sign up for the weekly newsletter Breaking News.
Read More