Press
THRTaps Vince Gilligan for Showrunners Roundtable; Bryan Cranston Tells Telegraph About Being a Chameleon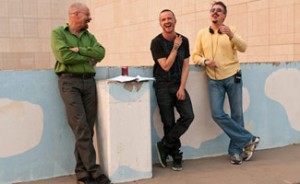 This week, Vince Gilligan participates in The Hollywood Reporter's showrunners roundtable, while Bryan Cranston talks to The Telegraph about why he likes to be a chameleon. Plus, Gold Derby recommends which episode Anna Gunn should submit for Emmy consideration. Read on for more:
• The Hollywood Reporter's showrunners roundtable features Vince Gilligan, who says, about Breaking Bad's success, "Finally, you get it right, and you're like, 'Wow, I got that. How the hell am I ever going to do that again?'" THR has photos too.
• Bryan Cranston, profiled by The Telegraph, talks about the acting roles he takes on: "I'm more of a chameleon, and that gives me a wider opportunity to choose characters."
• Gold Derby tries to figure out which Season 5 episode — "Buried" or "Ozymandias" — Anna Gunn should submit to the Emmys.
• USA Today reports that Bryan Cranston won the Outer Critics Circle Award for outstanding actor in a play, for playing LBJ in All the Way.
• Newsday's round-up of the most intriguing network TV shows this season includes FOX's Gracepoint, which stars Anna Gunn, and CBS' Battle Creek, from Vince Gilligan. E! Online is "fairly intrigued" by Battle Creek since Gilligan wrote it, while Entertaiment Weekly thinks Gracepoint might have "the best cast anywhere in the fall 2014 lineup," and Vulture says that "it's nice to see Anna Gunn in an active lead role after playing the fly in the ointment on five seasons of Breaking Bad."
• According to E! Online, The Club, starring Betsy Brandt, has received a series order from ABC.
• Cinema Blend showcases the trailer for FOX's Gracepoint, which features Anna Gunn in her new post-Breaking Bad role, while British Columbia's Times Colonist has a behind-the-scenes featurette.
• Screen Crush reports that Mission Control, starring Krysten Ritter and produced by Will Ferrell, has received a series order from NBC.
• Bryan Cranston tells Digital Spy that Walt could get the better of Godzilla because he'd "find some kind of little chemical and insert it and down he goes."
• Bustle honors Skyler as one of TV's most amazing moms because "I can't think of another TV mom who's had to go to the lengths that Skyler went to in order to keep her children safe."
• Variety reports that Entertainment One has bought the international rights to Trumbo, a movie about the blacklisted screenwriter that stars Bryan Cranston in the title role.
To stay up-to-date on the latest news about Breaking Bad, sign up for the weekly newsletter Breaking News.
Read More