Press
TCA Nods for Breaking Bad; Variety Interviews Bryan Cranston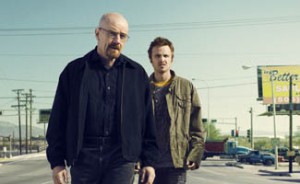 This week, Breaking Bad receives three TCA nominations, while Bryan Cranston chats with Variety about his versatile and busy career. Plus, Salon talks to the actor who played Spooge about his new book. Read on for more:
• TVLine reports that Breaking Bad has been honored with three nominations from the Television Critics Association — for program of the year, outstanding achievement in drama and individual achievement in drama (for Bryan Cranston).
• Variety profiles Bryan Cranston and says of the 58-year-old actor that he's "become one of Hollywood's hottest properties at an age that's considered, by showbiz standards at least, late in life."
• Salon interviews David Ury about his new book and his experience playing Spooge on Breaking Bad.

• Breaking Bad also receives four Critics' Choice Television Award nominations, for best drama series, best actor in a drama series (Bryan Cranston), best supporting actress in a drama series (Anna Gunn) and best supporting actor in a drama series (Aaron Paul).
• Harvard University's president, who interviewed Vince Gilligan earlier this year, addresses students using Breaking Bad and Walt's actions as a cautionary tale, according to The Harvard Crimson and Harvard Magazine.
• HLNtv notes that Breaking Bad fans will want to "keep an eye" on BoJack Horseman, a Netflix original series that features Aaron Paul's voice.
• The Wall Street Journal reports that the New Mexico Law Review is publishing a special upcoming issue dedicated to Breaking Bad.
• The Kansas City Star applauds Bryan Cranston in All the Way, saying he gives "a remarkable performance by any measure."
• Bryan Cranston won the Elliot Norton Award for outstanding actor for his performance in All the Way at the American Repertory Theater, according to Playbill.
• Broadway.com reports that Anna Gunn will be a presenter at the Tony Awards ceremony on June 8.
• Melissa Bernstein, previously a Breaking Bad executive producer, speaks with SundanceTV about all the Breaking Bad alumni on her new show, RECTIFY.
• Ozy previews FOX's Gracepoint and calls Anna Gunn "delightful."
• Screen Crave considers the trailer for Hellion, starring Aaron Paul, one of the best of the week.
• Small Time, a movie featuring Dean Norris, will be available on DVD and Blu-ray on June 3, says Screen Crush.
• Also, Need for Speed, starring Aaron Paul, will be released Aug. 5 on Blu-ray, according to Daily Game.
To stay up-to-date on the latest news about Breaking Bad, sign up for the weekly newsletter Breaking News.
Read More