Press
Bryan Cranston Chats With Matt Lauer; Breaking Bad Wins Bafta, Peabody Awards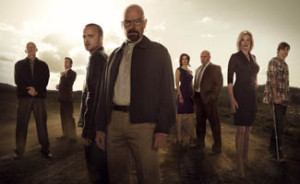 This week, Bryan Cranston talks about his new projects on TODAY, while Breaking Bad is honored with Bafta and Peabody awards. Plus, Aaron Paul's Saturday Night Live's appearance is considered one of the show's best cameos. Read on for more:
• TODAY's Matt Lauer speaks with Bryan Cranston about his post-Breaking Bad roles in such productions as Broadway's All the Way and the big-screen Godzilla remake.
• The Independent reports that Breaking Bad won its first Bafta Award in the Best International category. Aaron Paul was on hand in London to accept the prize.
• Breaking Bad was honored with a Peabody Award, which Bryan Cranston accepted on behalf of the show's cast and crew.
• Aaron Paul's turn as Jesse taking part in a presidential press conference is one of Saturday Night Live's best cameos this season, according to TODAY.
• Vanity Fair highlights a podcast where a Game of Thrones writer reveals that a character on the HBO series was based on a Breaking Bad villain: "We based Tycho's clipped mannerisms on Gus Fring. The only thing that was missing was him asking them [Davos and Stannis] if they need refills on their soft drinks."
• The Los Angeles Times profiles Under the Dome's Dean Norris, who "catapulted to fame as DEA agent Hank Schrader."
• The Associated Press reports that Better Call Saul will be shot in Albuquerque.
• Bryan Cranston talks to Ireland's Independent.ie about Godzilla and, regarding Breaking Bad, how "there really was no way of telling it was going to mushroom cloud the way it did." USA Today reports that Godzilla was No. 1 during its opening weekend, taking in $93.2 million.
• The Huffington Post spotlights Breaking Bad's Emmy campaign, a series of billboards around Los Angeles where "Heisenberg strongly suggests you cast your ballot his way."
• RJ Mitte tells The Charlotte Observer that Walt Jr.'s presence on Breaking Bad helped promote awareness of people with disabilities because he was "someone that was living his life, living with his disability and being an important part of a family."
• In honor of Bryan Cranston's new movie, the Godzilla remake, Bustle compares Heisenberg with "pop culture's most famous monster," in an attempt to determine which one is scarier.
• Take SundanceTV's quiz to see how well you recognize quotes from Breaking Bad.
• The Telegraph highlights 10 "great late bloomers," including Bryan Cranston, who "paid his dues in decades of roles on daytime soaps and English dubs of foreign animation."
• According to TheWrap, Aaron Paul is joining the cast of Eye in the Sky, a movie starring Colin Firth.
• In addition, TheWrap spotlights a new trailer for Hellion, a movie starring Aaron Paul that will have a limited release on June 13.
• Variety reports that RJ Mitte will star in a movie called Who's Driving Doug.
• Also, according to Variety, a deal has been made for the U.S. rights to House of Last Things, which marks RJ Mitte's feature film debut.
• The Telegraph's compilation of U.S. TV highlights includes Vince Gilligan's Battle Creek and Gracepoint, starring Anna Gunn.
• Refinery29 is excited about Gracepoint because it's "Anna Gunn's first post-Breaking Bad role, and well, we've missed you, Skyler."
• Breaking Bad is No. 2 on Cinema Blaze's list of the 10 best TV shows of all time because it "consists of some of the most irresistible characters, nail-biting suspense, and downright heart-breaking moments you'll find in any television series."
• The Comedy Bureau speculates that Bob Odenkirk might be recording his first comedy album next week.
To stay up-to-date on the latest news about Breaking Bad, sign up for the weekly newsletter Breaking News.
Read More