Press
Vince Gilligan Talks Finales With EW; Washington Elite Watch Bryan Cranston in All the Way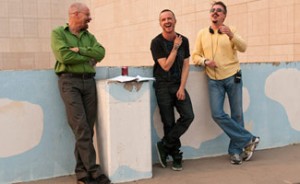 This week, Entertainment Weekly gets Vince Gilligan's take on the art of the series finale, while Bryan Cranston in All the Way is drawing the powerful from Washington. Plus, Breaking Bad's science advisor talks about how she did her job. Read on for more:
• Talking TV finales with Entertainment Weekly, Vince Gilligan says Walt had to die because he "got a death sentence in the first act of the very first episode. It would be less than satisfying perhaps if he didn't die at the end of the whole thing."
• The New York Times observes that Washington's power players have flocked to Broadway to see Bryan Cranston as LBJ in All the Way.
• According to The Huffington Post, Breaking Bad's science advisor is especially proud of a Season 4 episode with very high level chemistry terminology ("catalytic hydrogenation," "enantiomerically," etc.).
• Jesse is one of People's famous TV drug addicts, observing that "his troubles with drugs anchored some of his most riveting screen time."
• Bob Odenkirk tells The Guardian about taking on a part in FX's Fargo, saying, "Saul Goodman was fun to play, but incredibly cynical. This character that I play in Fargo is his polar opposite."
• The Huffington Post wonders if it's best to binge-watch Breaking Bad — or whether it was better to see it unfold week after week over several years.
• Backstage's list of the most beloved anti-heroes includes Walt (who "transformed so convincingly into the ruthless Heisenberg") and Skyler ("one of the only people to stand up to Walter and live to tell the tale").
• Who are the 13 most despicable TV villains who got what they deserved in the end? What Culture puts Gus, Walt and Todd on that list.
• According to The New York Times, All the Way, starring Bryan Cranston on Broadway, may help to burnish President Lyndon Johnson's legacy.
• TheWrap features a trailer for Decoding Annie Parker, a movie starring Aaron Paul that opens May 2.
• Indian Country Today Media Network celebrates some "favorite characters/moments that involved Native characters" in Breaking Bad."
• According to The Washington Post, Carol Leifer's book, How to Succeed in Business Without Really Crying, features anecdotes and advice from Bryan Cranston, among others.
• USA Today reports that The Things They Carried by Tim O'Brien, narrated by Bryan Cranston, is a finalist for the Audio Publishers Association's Audie Award for audiobook of 2013.
• Technology Tell's review of Big History says it's "narrated with no small aplomb by Bryan Cranston."
To stay up-to-date on the latest news about Breaking Bad, sign up for the weekly newsletter Breaking News.
Read More