Press
Vince Gilligan on Ending Breaking Bad; Giancarlo Esposito Discusses Gus's Death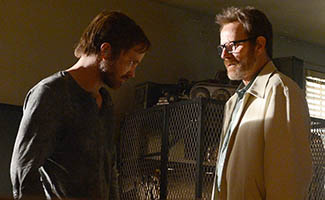 This week, The Sydney Morning Herald asks Vince Gilligan about the pressure of ending Breaking Bad, while Giancarlo Esposito describes Gus's death. Plus, The Wire thinks Bryan Cranston will get a Tony nod for playing President Lyndon Johnson. Read on for more:
• Vince Gilligan speaks with The Sydney Morning Herald about wrapping up Breaking Bad and how he "felt a huge amount of pressure to end this thing right, more creative pressure than I've ever felt about anything I've ever done."
• Talking to The Vancouver Sun, Giancarlo Esposito calls Gus's demise "probably one of the most visually satisfying and emotionally gratifying deaths in film history."
• The Wire predicts that Bryan Cranston will be nominated for a Tony Award for best lead actor in a play, for his role as LBJ in All the Way.
• Speaking of which, The Boston Globe reports that Bryan Cranston was honored with an Elliot Norton Award (Boston's version of the Tonys) nomination for outstanding actor for All the Way.
• Also, Bryan Cranston has been nominated for an Outer Critics Circle Award for outstanding actor in a play, according to Variety.
• According to The Hollywood Reporter, Bryan Cranston tells a Tribeca Film Festival audience about connecting a "villain" with viewers: "The more complex a character is and the more honest a character is depicted, I think it touches people and it resonates through them, and it was done very craftily."
• Bob Odenkirk tells The Independent he doesn't know what will happen on Better Call Saul, but he's "just planning to act my pants off, that's really my only plan."
• GQ wonders if Breaking Bad should have ended in a bloodbath, leaving everyone in the cast dead.
• Las Vegas Weekly spotlights Goorin Bros., the maker of Heisenberg's porkpie hat.
• The Houston Chronicle features a gallery of actors who have played Texans, including Bryan Cranston — who's playing President Lyndon Johnson on Broadway.
• See Bob Odenkirk at Cinema Blend in a trailer for upcoming episodes of FX's Fargo.
To stay up-to-date on the latest news about Breaking Bad, sign up for the weekly newsletter Breaking News.
Read More