Press
Bryan Cranston to Pen Memoir Including Breaking Bad Years; BAFTA Nod for Series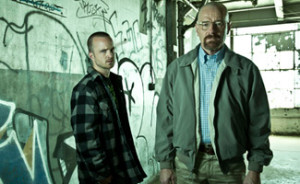 This week, Bryan Cranston inks a deal to write a memoir, while Breaking Bad is honored with a BAFTA TV nomination. Plus, Breaking Bad is featured in Roddy Doyle's latest story in The New Yorker. Read on for more:
• The New York Times reports that Bryan Cranston plans to write a memoir that will include "the secrets and lies that I lived with for six years shooting Breaking Bad."
• Breaking Bad has been nominated for a British Academy of Film and Television Arts (BAFTA) Award in the international category, according to The Hollywood Reporter.
• Breaking Bad (and Mad Men) make appearances in the opening paragraphs of Roddy Doyle's short story, "Box Sets," in The New Yorker.
• Vince Gilligan is one of the New York Post's TV stars to watch for this fall because Breaking Bad's success has "made him the hottest producer in town."
• Time spotlights Bryan Cranston, who made "the bold choice of testing himself on Broadway" by playing President Lyndon Johnson in All the Way.
• Bryan Cranston appeared on Charlie Rose last week in "a thoroughly interesting and entertaining hour of television" — and Uproxx has the video.
• Bryan Cranston tells CBS This Morning that he related to Walt, that "I knew men like him who missed opportunities in their lives."
• Vince Gilligan, one of the showrunners interviewed by Entertainment Weekly about crafting a series finale, says he and the show's writers "really had boxed ourselves into a certain number of corners well in advance of the ending." (No link)
• Theater Mania reports that Bryan Cranston won the award for best actor in a play from the Independent Reviewers of New England for his performance last fall as LBJ in All the Way in Cambridge, Mass.
• Vulture spotlights Bryan Cranston's turn on last week's episode of FOX's Family Guy, noting, "Even in Family Guy world, his every move is praised."
• Bustle is excited about Anna Gunn's many post-Breaking Bad projects, noting, "With all of these wonderfully complex and powerful female roles for Gunn to play, I have no doubt that she's going to be in our lives for quite a while more."
• Indiewire thinks Anna Gunn is assured an Emmy nomination for best supporting actress in a drama — and Betsy Brandt could get one too — and that Bryan Cranston is a shoo-in for a best actor in a drama nod, while Aaron Paul and Dean Norris are likely candidates for nominations for best supporting actor in a drama.
• AL.com reports that a website, Tiii.me, has calculated that viewers spent 1 day, 23 hours and 32 minutes watching the entirety of Breaking Bad.
• The Montreal Gazette chooses Breaking Bad for its list of the most memorable TV finales.
• According to Backstage, Aaron Paul won the Shorty Award for best actor.
• Breaking Bad Story Sync is nominated for a Webby Award.
• The Indianapolis Star touts Dean Norris as one of the top 10 Hoosiers who have appeared on Late Show With David Letterman.
• Bob Odenkirk tells Australia's AAP that Breaking Bad got him recognition for his acting skills, saying, "I got better working in that environment and working with those scripts and it gave me the confidence and it's proof to the people in the front office that I can act."
• Reviewing FX's Fargo, the U.K.'s The Telegraph cites Bob Odenkirk as one of the show's "pleasures."
• Digital Spy singles out the most exciting 2014 TV pilots, including CBS' Battle Creek: "If you're suffering from the post-Breaking Bad blues, then Battle Creek could be the perfect antidote – Vince Gilligan is the man behind both shows."
To stay up-to-date on the latest news about Breaking Bad, sign up for the weekly newsletter Breaking News.
Read More