Press
Bryan Cranston Talks to CBS, NPR; Breaking Bad Wins Peabody Award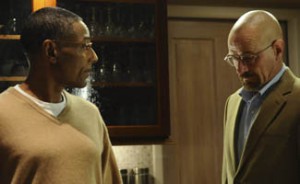 This week, CBS News and NPR interview Bryan Cranston, while Breaking Bad is honored with a Peabody Award. Plus, Anna Gunn will be off-Broadway this summer. Read on for more:
• Talking to CBS News, Bryan Cranston — who's playing President Lyndon Johnson on Broadway in All the Way — reflects on the civil rights legacy of the 36th president, saying, "He went against the norm in a time, in the early '60s, when he just as easily could've just let it be the status quo."
• NPR interviews Bryan Cranston, who says his appearance enables him to be "more chameleon-like, as opposed to, let's say, Jon Hamm, who is this handsome, striking, black-haired, chiseled-looking guy."
• Breaking Bad, "a stunning brand of visual storytelling and meticulous character development," wins a Peabody Award.
• Variety reports that Anna Gunn has been cast in an off-Broadway play called Sex With Strangers that will be directed by David Schwimmer.
• Time's list of the most shocking TV deaths includes Hank and Gus.
• One of Rolling Stone's best TV moments last year was Walt paying Robert Forster's character to play cards with him: "For Walter White, this is what his whole criminal empire comes down to – hiring a fellow crook to make him feel like a regular guy for a few minutes."
• Wired highlights a graph that shows high viewer ratings for Breaking Bad and a strong upward progression for each season: "By ending every season stronger than it started, Breaking Bad never left fans disappointed."
• Digital Spy thinks Walt lost the sympathy of viewers when he let Jane die in Season 2, calling it "the starkest turning point" for Breaking Bad's anti-hero.
• Breaking Bad's fans span the globe. The Huffington Post reports that Israel's Maccabi Tel Aviv football team unfurled a banner during a game that said "I'm not in danger, I am the danger."
• Mashable spotlights a fan's paintings of Walt that each reveal "a different side of his personality; a different story for every important person in his life."
• Entertainment Tonight's gallery of notable guest stars on CBS' How I Met Your Mother includes Bryan Cranston.
• A.V. Club reports that Bob Odenkirk will guest-star on IFC's Comedy Bang! Bang! this season.
• According to Omaha's WOWT, RJ Mitte brings his anti-bullying message to Creighton University and credits Breaking Bad for filling up the auditorium: "I wouldn't have the platform without Breaking Bad. I wouldn't be able to come do this."
To stay up-to-date on the latest news about Breaking Bad, sign up for the weekly newsletter Breaking News.
Read More