Press
New Yorker Applauds Breaking Bad Finale; Vince Gilligan Cameos on Community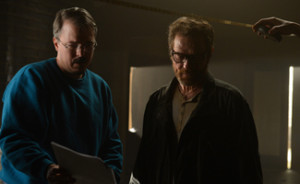 This week, Breaking Bad's finale wins kudos from The New Yorker, while Vince Gilligan makes his acting debut on NBC's Community. Plus, Betsy Brandt has booked a new series. Read on for more:
• The New Yorker applauds Vince Gilligan for ending Breaking Bad "with clarity and heart amid the highest possible expectations."
• Vince Gilligan makes his long-awaited cameo on NBC's Community, and Vulture describes him as "perfect" in his role. IGN marvels, "Wow, wow, wow on Vince Gilligan."
• Betsy Brandt is joining Season 2 of Showtime's Masters of Sex, according to The Hollywood Reporter.
• Reviewing All the Way, The New York Times raves, "Bryan Cranston makes a commanding Broadway debut." The Huffington Post calls Cranston "simply brilliant."
• USA Today interviews Aaron Paul, who says he asked Breaking Bad's writers "to let Jesse live in the finale. But if he had to die, to let him commit suicide."
• Elle features Aaron Paul in its April issue and learns that Bryan Cranston advised him "Do not settle" when it came to women. Men's Journal also talks to Paul, who says the contrast between Breaking Bad and Need for Speed was "like night and day, but it's great."
• Bryan Cranston appears on Late Show With David Letterman and Good Morning America — and entertains a "fan" question on GMA from Aaron Paul.
• Aaron Paul tells The Dallas Morning News, "Working with Bryan Cranston was like going to a master class in acting every single day."
• Music Week talks to Thomas Golubić, Breaking Bad's music supervisor, about the story behind Walt singing "A Horse With No Name" in Season 3.
• A.V. Club's "A-" review of ESPN's 30 for 30: Requiem for the Big East notes the documentary is narrated by Giancarlo Esposito.
• The New Orleans Saints official website interviews Saints superfan, RJ Mitte, who says the cast and crew had no way of knowing how popular Breaking Bad would become.
To stay up-to-date on the latest news about Breaking Bad, sign up for the weekly newsletter Breaking News.
Read More