Press
Guardian Interviews Bryan Cranston; Betsy Brandt Books New TV Series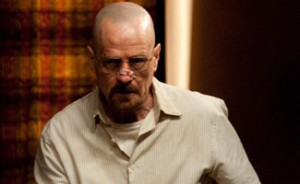 This week, Bryan Cranston speaks with The Guardian about Breaking Bad and President Lyndon Johnson, while Betsy Brandt is cast in an ABC drama series. Plus, Aaron Paul and RJ Mitte predict what Jesse and Junior would be up to now. Read on for more:
• Bryan Cranston tells The Guardian that his Breaking Bad-themed tattoo reminds him that "any opportunities I have now are because of that show."
• Betsy Brandt will star in ABC's The Club, a 13-episode drama, according to The Hollywood Reporter.
• Talking to RadioTimes.com, Aaron Paul theorizes that Jesse is "living as a carpenter somewhere – somewhere in Alaska."
• Meanwhile, RJ Mitte tells Tampa Bay Times that Walt Jr. is likely "still shaken up by what happened, very focused on being with his mom and little sister. He's the only man in the house now."
• Bryan Cranston has some things to say about Godzilla, according to HitFix, including "What I loved as a boy was Godzilla more than King Kong, because he just destroyed everything without any apologies."
• Playbill says reviews of All the Way concur that Bryan Cranston made "a smashing Broadway debut and was, indeed, the main reason to see the play."
• FOX's head of casting tells Deadline that Anna Gunn is her biggest casting coup, marveling, "You can imagine how elated we were when she chose to play Detective Ellie Miller in our event series, Gracepoint."
• Screen Crush has a trailer for FX's Fargo, a new TV series that features Bob Odenkirk. Vulture says the trailer has "the violent, vaguely absurd feel of Breaking Bad buried under three feet of snow."
• Danny Trejo puts his baking and whittling skills on display for Nerdist.
To stay up-to-date on the latest news about Breaking Bad, sign up for the weekly newsletter Breaking News.
Read More