Press
Aaron Paul Profiled in NY Times; Bryan Cranston Talks LBJ With Washington Post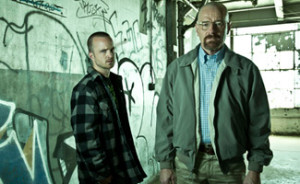 This week, The New York Times profiles Aaron Paul, while The Washington Post discusses playing President Johnson on Broadway with Bryan Cranston. Plus, Jonathan Banks talks Better Call Saul. Read on for more:
• Aaron Paul tells The New York Times why he chose Need for Speed as his first post-Breaking Bad project: "I loved Jesse Pinkman to death, but he was a broken, sad, tortured individual who just couldn't catch a break. I wanted something fun."
• Bryan Cranston, talking to The Washington Post about playing Lyndon Johnson on Broadway in All the Way, describes the president thusly: "The right adjective to describe him is all of them; he's gracious and giving and warm and kind, and then all of the not-lovely attributes, too."

• In a New York Daily News live chat, Jonathan Banks says, "I like the mystery of Mike and for me that was the most intriguing part of that character."
• Talking to The Huffington Post, Jonathan Banks calls Breaking Bad "the highlight of a career. It was, in many ways, not only in the quality of what was on the screen, but the people that worked together."
• In a conversation with Gothamist, Jonathan Banks shares this about the mood of Better Call Saul: "Essentially, there's no way around Saul, he's going to be a lighter tone. And the darker tone will be Mike."
• The creators of HBO's Game of Thrones tell Vanity Fair what they learned from Vince Gilligan and Breaking Bad.
• Reviewing All the Way, The Washington Post cheers, "Bryan Cranston for president!" Entertainment Weekly says that Cranston "embraces the role's showmanship and physicality with gusto, close-talking and buttonholing and tie-grabbing to make his case." Meanwhile, Access Hollywood crows, "Start spreading the news – there's a new king on the Great White Way!"
• Aaron Paul speaks with The Boston Globe about his new movie, Need for Speed, and how his goal now is "just keeping the audience guessing, trying to do stuff that challenges me and zipping on as many different skins as possible."
• GQ talks up the new Godzilla movie, starring Bryan Cranston, and applauds, "Expect performances far above your usual summer blockbuster fodder."
• Giancarlo Esposito tells The Canadian Press that he's eager for a Better Call Saul appearance because "to be back with the Breaking Bad family is a very specific and very wonderful way to work."
• The Toronto Star interviews Giancarlo Esposito about how he initially turned down the role of Gus, since "I had done so many guest spots in my life I wanted to be part of a family."
• Vince Gilligan reveals that the high school where Walt taught in Breaking Bad was named after Gilligan's elementary school in Farmville, Virginia, according to the Richmond Times-Dispatch.
• Digital Spy lists 10 reasons why it loves Bryan Cranston.
• RJ Mitte tells The Daily Illini (of the University of Illinois) that he and Walt, Jr. are similar in many ways, saying, "I always find there are pieces of yourself that you put into your job."
To stay up-to-date on the latest news about Breaking Bad, sign up for the weekly newsletter Breaking News.
Read More