Press
Bryan Cranston Compares Walter White to LBJ; Jonathan Banks Cast in New Movie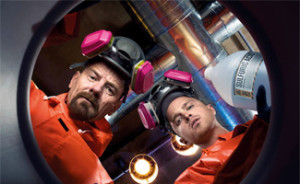 This week, Bryan Cranston compares his newest character, President Lyndon Johnson, with his most well-known, Walt and Jonathan Banks is cast in a new movie. Read on for more:
• According to The Wall Street Journal, Bryan Cranston, starring on Broadway as Lyndon Johnson, says the 36th president and Walt were "both very powerful, strong-willed, smart, damaged. In both cases, ego had a large part of what downfall they had."
• Jonathan Banks has been cast in Term Life, a crime thriller to be directed by Peter Billingsley, according to The Hollywood Reporter.
• Hypable taps Aaron Paul as a future Oscar nominee, calling him "one very busy man, jumping from project to project and covering almost every genre on the way."
• Talking about playing President Lyndon Johnson in All the Way, Bryan Cranston tells the Associated Press, "You only make your Broadway debut once and I'm encouraged that I hitched my wagon to a really well-written play."
• The Saturn Award nominations were announced and Breaking Bad has five nods: best TV presentation of a limited run series, best actor for Bryan Cranston, best actress for Anna Gunn, best supporting actor for Aaron Paul and best guest star for Robert Forster.
• Aaron Paul turned up on Top Gear in a Reasonably-Priced Car challenge — and broke the BBC Two show's speed record, according to Entertainment Weekly.
• Aaron Paul guest-hosted WWE Monday Night Raw and "looked as happy as he did at his wedding — which is why we love him," says Entertainment Weekly, which has some video of the event.
• Bill Burr tells the Ottawa Citizen, "I owe my acting career to [Vince] Gilligan and the writers and everybody else attached" to Breaking Bad.
• What Culture posts "a tribute to the under-appreciated, overlooked, and underrated episodes that helped make Breaking Bad a modern masterpiece."
• What Culture also highlights its take on Breaking Bad's 10 best musical moments.
• Describing his new movie, Need for Speed, to Ireland's Independent.ie, Aaron Paul says, "What's so great about this film is it's not just a car movie, but it's a throwback to the classic car culture films."
To stay up-to-date on the latest news about Breaking Bad, sign up for the weekly newsletter Breaking News.
Read More