Press
Vince Gilligan, Writers Talk Breaking Bad; EW Has First Look at Anna Gunn in Gracepoint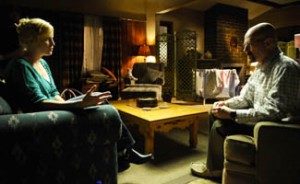 This week, Vince Gilligan and the show's writers talk about putting Breaking Bad together, while Anna Gunn shows up in a photo from her new series, Gracepoint. Plus, Breaking Bad wins an award for make-up. Read on for more:
• Vince Gilligan and Breaking Bad's writers sat down for a two-hour talk that was part of an event for The Writers Guild Foundation — and Indiewire has the video.
• Entertainment Weekly has a first look at Anna Gunn, along with David Tennant, in FOX's Gracepoint, noting that "it's like seeing a Time Lord and Skyler White team up to solve a mystery!"
• The Los Angeles Times reports that Tarra Day and Sheila Trujillo Gomez won a Make-Up Artists and Hair Stylists Guild award for contemporary makeup.

• The Hollywood Reporter profiles Breaking Bad's makeup artist, Tarra Day, who talks about preparing prosthetic pieces for Bryan Cranston in Walt's death scene.
• The Houston Chronicle highlights actors who have played famous Texans, including Bryan Cranston as President Lyndon Johnson (who was "born nearly smack-dab in the middle of the state in a town called Stonewall").
• HitFix asks if Walt is "a good guy forced to do bad things, or TV's worst monster."
• Canada's Q interviews Aaron Paul, who calls Jesse and his Need for Speed character, Tobey Marshall, "polar opposites."
• According to Broadway World, Bryan Cranston, among others, will participate in a Feb. 23 daylong discussion of the themes of All the Way, the play he's starring in on Broadway.
• Aaron Paul, promoting Need for Speed, tells Boston's The Toucher and Rich Show that the Breaking Bad pilot was "the best thing I had ever read."
• ComingSoon.net showcases a Need for Speed featurette where Aaron Paul talks about his fellow cast members and the cars in the movie.
• Aaron Paul is one of Up & Comers' faces to watch because "things are definitely looking rosy for the actor's career."
• John de Lancie tells The Roanoke Times about being on Breaking Bad: "Everybody's playing at the top of their game. I was just delighted to be in that experience because that's rare, frankly, for a movie."
• Go to Vulture.com to see Matt L. Jones (Badger) play basketball. A hot dog, Rob Corddry and Nate Corddry are also involved.
• Check out an a cappella version of Breaking Bad's theme song at USA Today.
• FlickSided has a mash-up featuring Breaking Bad and Martin Scorsese's The Wolf of Wall Street.
• Wall St. Cheat Sheet recommends binge-watching Breaking Bad, noting that "it's so fantastic that once you start you will not be able to stop." Digital Spy agrees, extolling the drama's "incredible dramatic moments that are — no hyperbole or exaggeration — genuinely jaw-dropping."
• Monsters & Critics reports that Big History, narrated by Bryan Cranston, will be available on Blu-ray and DVD on Mar. 11.
To stay up-to-date on the latest news about Breaking Bad, sign up for the weekly newsletter Breaking News.
Read More