Press
NY Times Talks LBJ, All the Way With Bryan Cranston; Aaron Paul on Leaving Jesse Behind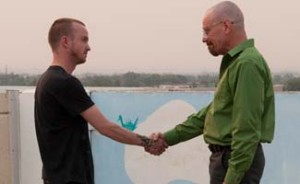 This week, Bryan Cranston is interviewed by The New York Times about his Broadway debut, while Aaron Paul talks about leaving Jesse behind. Plus, Breaking Bad captures more awards, for writing and editing. Read on for more:
• Bryan Cranston talks to The New York Times about playing President Lyndon B. Johnson on Broadway in All the Way, calling the 36th president "legitimately larger than life." The New York Observer also interviews Cranston about his move to Broadway.
• Sitting down with WLIW Arts Beat, Bryan Cranston characterizes Walt as "a troubled, troubled, despicable man, caught up in his own ego and hubris."

• Talking to ESPN's SVP & Russillo about Breaking Bad's ending, Aaron Paul says, "Jesse, he was just constantly tortured and tormented, so it was nice to just kind of leave that behind me."
• The Los Angeles Times has video of Breaking Bad's best drama win at the WGA Awards, featuring an acceptance speech from Vince Gilligan.
• Variety reports that Breaking Bad's series finale, "Felina," captured an ACE Eddie Award in the category of best edited one-hour series for commercial television.
• One of Entertainment Weekly's pop culture pet peeves is when TV characters don't eat their breakfast, but of course Breaking Bad, "a show that appreciates breakfast," is not guilty of that.
• Harvard University graduate Dean Norris tells Harvard Magazine that Breaking Bad was like a novel, "62 chapters that tell this long and complicated story."
• Sony, reporting its quarterly earnings figures, cites Breaking Bad's subscription video-on-demand deals for a revenue rise at its entertainment division, according to TBI Vision.
• For viewers still nostalgic about Breaking Bad, there's a Facebook Look Back video for Walt that "gives us everything we've been missing" since the finale, according to The Huffington Post.
• Variety reports that Aaron Paul is a finalist for two Shorty Awards, which are social media-themed, in the #Actor and #Celebrity categories, while Rian Johnson is a finalist in the #Director category.
• According to The Inquisitr, RJ Mitte has been named the new ambassador for Shriners Hospitals for Children's "Love To The Rescue" campaign.
• The Hollywood Reporter highlights buzzworthy upcoming TV shows, including FX's Fargo ("an out-of-the-box gem") which features Bob Odenkirk.
• What Culture calls FOX's Gracepoint, starring Anna Gunn, one of 2014's most hotly-anticipated new TV shows.
• David Costabile tells Comic Book Resources about playing Gale: "The notes that most other people were playing were much more brutal and severe and cruel, and the fact that Gale was this breath of fresh air was very fun for me."
• Sam Catlin, a Breaking Bad producer, will be the showrunner and executive producer of AMC's Preacher, a comic book adaptation from Seth Rogen and Evan Goldberg, The Hollywood Reporter says.
To stay up-to-date on the latest news about Breaking Bad, sign up for the weekly newsletter Breaking News.
Read More