Press
Bryan Cranston in Godzilla Trailer; Anna Gunn Graces More Cover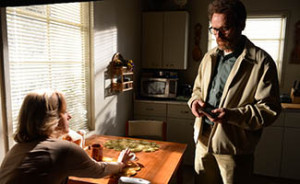 This week, Bryan Cranston is featured in a new trailer for Godzilla, while Anna Gunn is celebrated on the cover of More. Plus, Entertainment Weekly administers its pop culture personality test to Betsy Brandt.Read on for more:
• Check out Bryan Cranston in the trailer for Godzilla, which, according to Complex, "features Cranston screaming and channeling his inner Walter White."
• Anna Gunn appears on the cover of More and calls the Breaking Bad pilot "one of the best scripts I'd read." The New York Post has more from Gunn's cover article.
• Betsy Brandt takes Entertainment Weekly's pop culture personality test, where she professes her love for Elvis Presley, The Cosby Show, It's Complicated and When Harry Met Sally…
• The Huffington Post reports that RJ Mitte, "our favorite TV son and actor," is one of Gap's models for its spring campaign.
• E! Online showcases a "pretty amazing" video of Bryan Cranston transforming into President Lyndon Johnson for his Broadway debut in All the Way — and speaking about a contest to support The National Center for Missing and Exploited Children.
• TheWrap reports that a Reddit Ask Me Anything with Errol Morris revealed that Bryan Cranston has joined the cast of the director's movie, Holland, Michigan.
• According to The Hollywood Reporter, Breaking Bad won three Satellite Awards — for best TV drama, best actor in a drama (Bryan Cranston) and best supporting actor (Aaron Paul).
• Variety reports that the North American rights to Hellion, a movie starring Aaron Paul, have been acquired by Sundance Selects.
• In an article about Hollywood stars performing on the Great White Way, Bryan Cranston, set to make his debut in All the Way, tells Reuters, "I don't know any actor who would not want to be on Broadway."
• Cleveland.com describes Breaking Bad — with Season 5 now available on Netflix Instant — as "one of the best dramas in the history of television and the final season does not disappoint."
• Entertainment Weekly reports that Krysten Ritter successfully guessed that her on-screen Breaking Bad boyfriend, Aaron Paul, was a guest star on the Veronica Mars TV series once upon a time.
• Gold Derby points out that Breaking Bad would be the fourth drama to prevail in its final season, if it wins the best drama Emmy this year.
• Co.Create spotlights a Glenlivet ad campaign that features successful men speaking about personal moments in their lives, such as Bryan Cranston discussing his parents' divorce.
• International Digital Times is looking forward to Better Call Saul, "because of the estimable pedigree of its predecessor, Breaking Bad."
• The Huffington Post explains, in GIF form, how Walt and Jesse are "the ultimate bickering odd couple."
• The creator of Netflix's House of Cards tells The Guardian that Breaking Bad is an example of a show that "perfectly moved towards its ending."
• The Huffington Post highlights a series of "unique and beautiful" posters created by an artist for each episode of Breaking Bad.
• The Huffington Post has a video that checks out what Bryan Cranston and Aaron Paul were doing "before they were cooking up drugs in Albuquerque."
• The head of the Financial Crimes Enforcement Network referenced Saul Goodman (as "a third party money launderer") in remarks at an anti-money laundering conference, according to American Banker.
• Albuquerque Business First reports that the city's film office has received a Location Managers Guild of America Awards nod in the outstanding film commission category, partly for its work on Breaking Bad.
To stay up-to-date on the latest news about Breaking Bad, sign up for the weekly newsletter Breaking News.
Read More