Press
Aaron Paul Chats With Wall St. Journal; Breaking Bad Wins Two Writers Guild Awards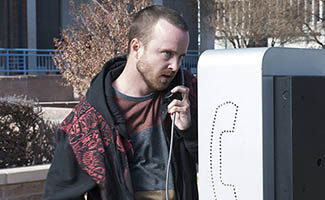 This week, Aaron Paul speaks with The Wall Street Journal about his burgeoning movie career and, of course, about Breaking Bad, while the series was honored with two awards from the Writers Guild. Plus, the New York Daily News takes a look at the A-listers, like Bryan Cranston, who can be seen on stage this season. Read on for more:
• Talking to The Wall Street Journal, Aaron Paul discusses "what was so great about Breaking Bad—it really felt like an independent film every single week."
• According to The Hollywood Reporter, Breaking Bad won two Writers Guild Awards, for drama series and Season 5's "Confessions" (written by Gennifer Hutchison).
• The New York Daily News highlights the A-list actors who can be seen on Broadway this season, including All the Way's Bryan Cranston, "whose run as the monarch of blue meth in Breaking Bad has made him red hot."
• Aaron Paul talks to Screen Crush about his Breaking Bad experience: "I lived and breathed every moment as Jesse. I loved the kid. I miss him so much, but … you know."
• Entertainment Weekly shares the Super Bowl ad that featured Aaron Paul in Need for Speed. Meanwhile, Paul, talking to Zap2it, compares Tobey Marshall, the character he plays in the movie, with Jesse.
• Now that Jonathan Banks has joined the Better Call Saul cast, the Tampa Bay Times compiles its wish list of other Breaking Bad actors who should join the spinoff's regular cast.
• GQ compliments Aaron Paul's look of a suede trucker jacket, knit cap and boots, "giving a shout out to the Seventies without looking too thrifty."
• According to The Hollywood Reporter, Bryan Cranston is co-producing a series called Ubermansion in conjunction with Stoopid Buddy Stoodios, the animation studio behind Adult Swim's Robot Chicken.
• Aaron Paul and his Hellion co-stars chat with SPIN about the music they love.
• Breaking Bad wins an International 3D & Advanced Imaging Society's Creative Arts Award for its remastered 4K version of the show, according to The Hollywood Reporter.
• Classicalite reviews the world premiere of the Breaking Bad opera, calling it "something of a masterpiece."
• The Huffington Post points out similarities between Breaking Bad and the world of Willy Wonka.
• The Huffington Post features a "really awesome" mashup of Breaking Bad and The Facts of Life (which premiered on NBC in 1979).
To stay up-to-date on the latest news about Breaking Bad, sign up for the weekly newsletter Breaking News.
Read More