Press
TV Guide Likes Breaking Bad's Chances at Golden Globes; Aaron Paul Talks to Details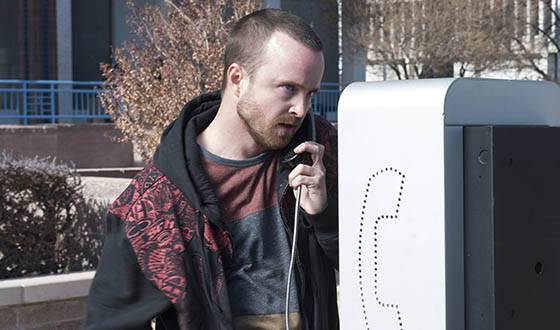 This week, TV Guide talks up Breaking Bad's Golden Globe chances, while Details chats with Aaron Paul. Plus, Vince Gilligan talks tech at the Consumer Electronics Show in Las Vegas. Read on for more:
• TV Guide speculates that Breaking Bad will win the best drama Golden Globe for its "blistering" final season, while Bryan Cranston's "last hurrah as Walter White should earn him an overdue Globe." [No link]
• The Hollywood Reporter also weighs in, asserting that Breaking Bad should win the best drama Golden Globe because "it's a no-brainer. Or it should be." [No link]
• Details interviews Aaron Paul — who's "blessed with looks, innate charm, and a deep well of talent" — about Jesse and his burgeoning movie career, including a role in Ridley Scott's Exodus.
• Vince Gilligan headed to this year's Consumer Electronics Show to talk tech and TV, including how large-screen TVs enabled him to "place characters in an endless expanse of Mexico prairie which gets to look very painterly and cinematic." CNET and Adweek also attend Gilligan's conversation.

• According to Entertainment Weekly, Breaking Bad is nominated for a Costume Designer's Guild award in the category of Outstanding Contemporary Television Series.
• Entertainment Weekly reports that Breaking Bad's Season 5 was the most downloaded TV season on iTunes in 2013. [No link]
• The Hollywood Reporter speaks with filmmaker Kat Candler about how Aaron Paul and his "excitement and his belief in the story" helped make Hellion — which screens at the Sundance Film Festival this month — happen.
• The first few seconds of the trailer (found at MTV) for Neighbors, starring Zac Efron and Seth Rogen, feature a baby dressed as Heisenberg.
• The Hollywood Reporter's top late night moments include Jimmy Fallon's Breaking Bad parody and Stephen Colbert's "Get Lucky" dance video that featured Bryan Cranston.
• 411's TV awards go to Anna Gunn (best female TV performance), Bryan Cranston (best male TV performance) and Breaking Bad (best TV drama).
• Broadway World showcases a new promo for All the Way, which stars Bryan Cranston as President Johnson and will open March 6 on Broadway.
• The Hollywood Reporter debuts a clip from ABC Family's Switched at Birth that features RJ Mitte.
• The debut of Better Call Saul is one of the year's most important television events, according to Uproxx. Better Call Saul also pops up in The Independent's TV preview.
• The Huffington Post has a mash-up video of the Breaking Bad credits done in the style of HBO's The Wire.
• Comic Book Movie has Aaron Paul behind the scenes of Need for Speed.
• Go to Crave Online to check out a clip of Bryan Cranston in Cold Comes the Night, which opens Jan. 10.
• Geeks of Doom features an animated short where Sherlock Holmes uses his deductive reasoning to spoil Breaking Bad (and Mad Men).
• Indiewire calls Nebraska "the best film of the year" and labels Bob Odenkirk "terrific" in the movie.
• To stay up-to-date on the latest news about Breaking Bad, sign up for the weekly newsletter Breaking News.
Read More