Press
SAG Awards for Breaking Bad, Bryan Cranston; Aaron Paul on Rewatching Breaking Bad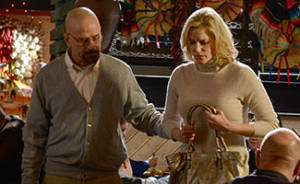 This week, Breaking Bad's cast and Bryan Cranston took home prizes from the Screen Actors Guild awards, while Aaron Paul reveals he's watching the show from the beginning. Plus, Anna Gunn accessorizes with a bag sporting the "BrBa" logo. Read on for more:
• "What a way to go out in style!" Bryan Cranston proclaims while accepting Breaking Bad's Screen Actors Guild award for outstanding performance by an ensemble in a drama series, The Associated Press reports.
• The Hollywood Reporter notes that Bryan Cranston delivered two "memorable" speeches at the ceremony. E! Online has an account of the second one, for his win for outstanding performance by a male actor in a drama series, where he sang and raved about Emma Thompson. According to the Los Angeles Times, the SAG Award "caps off a string of wins" for Breaking Bad, including an Emmy last year and a Golden Globe earlier this month.

• HitFix learns that Aaron Paul is rewatching Breaking Bad from the beginning. His review? "I'm on Season 2 now. It's a good show!"
• Anna Gunn shows up at the SAG Awards with a "subtle shout-out," according to E! Online, a custom-designed clutch sporting Breaking Bad's famous "BrBa" logo. People gave Gunn's clutch "the award for best accessory of the night."
• Aaron Paul talks to Vulture about coping with the end of Breaking Bad: "It was such a beautiful, functional family that we didn't want to leave one another, and we're still very close." Regarding Jesse, Paul also tells Rolling Stone, "I love the kid, I just feel for him and I'm just happy he's somewhat okay."
• Speaking with Deadline, Aaron Paul shares that Breaking Bad's cast and crew was shocked by its Golden Globes win because they were seated "in the very back of the room and we thought, 'Well, we're pretty much not even in this room.'"
• Asked by The Hollywood Reporter about possibly appearing on Better Call Saul, Aaron Paul responds, "I'd better be!" Paul also tells The Huffington Post he's actively seeking roles that are different from Jesse, that "it's always about doing something that I've never done before."
• Aaron Paul talks to Entertainment Weekly about his many upcoming movies, including Hellion, Need for Speed, Exodus and Netflix's BoJack Horseman. Movie City News calls Paul "simply terrific" in Hellion.
• Breaking Bad was named the year's best TV drama by the Producers Guild, according to Entertainment Weekly. The Hollywood Reporter has an account of Michelle MacLaren's acceptance speech at the PGA Awards, where she called Vince Gilligan Breaking Bad's "fearless leader."
• Speaking with Entertainment Tonight about starring in Godzilla, Bryan Cranston extols the "absolute destructive nature" of the world's most famous monster.
• Benedict Cumberbatch, of PBS' Sherlock, tells the Los Angeles Times that he got starstruck meeting Bryan Cranston and Aaron Paul: "I know about the dry mouth and not knowing what to say."
• Hollywood.com "couldn't be happier" about Jonathan Banks's arc on NBC's Community as Professor Buzz Hickey.
• Bill Burr tells the Albuquerque Journal that being Kuby on Breaking Bad was "one of the coolest jobs that I've ever had the chance of doing."
• Digital Journal interviews Jeremiah Bitsui, who calls shooting Victor's death "quite an experience for us all to dive into something that brutal and that bloody." Bitsui tells the Albuquerque Journal he's grateful for his three seasons on Breaking Bad and, if he gets to return for Better Call Saul, then "that's just going to be icing on the cake."
• According to The Hollywood Reporter, Breaking Bad received two nominations from the Motion Picture Sound Editors for best sound editing in the categories of dialogue and ADR (for Season 5's "To'hajiilee") and sound effects and Foley (for the series finale, "Felina").
• USA Today is a fan of Hank Azaria's new web series, Fatherhood, which features Bryan Cranston.
• According to Crave Online, Aaron Paul makes a cameo appearance in a new video for The Travis Walton Band's "Homewrecker."
• FlickSided has the first photos of Bob Odenkirk and his fellow cast members in FX's Fargo TV series.
• To stay up-to-date on the latest news about Breaking Bad, sign up for the weekly newsletter Breaking News.
Read More