Press
President Obama Avoids Breaking Bad Spoilers; Vince Gilligan Talks 2013 to EW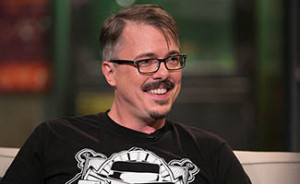 This week, The New York Times reports that President Obama is avoiding Breaking Bad spoilers, while Entertainment Weekly speaks with Vince Gilligan about the year that was and the year that will be. Plus, the New York Post considers Dean Norris one of TV's top actors. Read on for more:
• President Obama is working his way through Breaking Bad's DVDs and "frequently reminds those around him not to give anything away," The New York Times reports in an article about the president's favorite TV shows.
• Vince Gilligan has a year-end chat with Entertainment Weekly about his most memorable day in 2013 and how he'd really like to work with Clint Eastwood.
• Dean Norris tops the New York Post's list of 2013's best TV actors because he "evolved from an overbearing blowhard in Season 1 to the show's most intense character."

• TV Guide honors "Ozymandias" as 2013's best TV episode, describing it as "the series' best episode ever."
• The "searingly, satisfyingly brilliant" Breaking Bad is USA Today's program of the year.
• HitFix rewatches Season 5's "Ozymandias" and calls it "the greatest hour Breaking Bad has ever given its audience."
• One of 2013's greatest TV episodes, according to E! Online, is "Ozymandias," the "beginning of the end for TV's favorite antihero and what a spectacular way to start."
• The Chicago Sun-Times names "Ozymandias" one of 2013's top TV moments because TV "doesn't get more perfect than these 47 minutes of gut-wrenching reckoning."
• TV.com calls Breaking Bad's final season "the best thing about television in 2013," ranking it No. 1 on its Top 100 of Everything countdown.
• One of The Hollywood Reporter's top TV stories of the year was Breaking Bad's "record-breaking final run."
• The Los Angeles Times bids farewell to Walt, "one of the darkest and most villainous figures in TV history."
• Newsday's top 10 TV deaths include Walt ("one of the most important characters in TV history") and Hank ("the Last Good Guy, who grew in complexity, subtlety, intelligence over five seasons").
• Hank, the Nazis and Lydia all feature on Comic Book Resources' list of the year's best TV deaths, with Hank's demise noted as "one of the most depressing deaths in television history."
• One of the best lines on TV in 2013 was Walt telling Hank to "tread lightly" in Season 5's "Blood Money," according to the Los Angeles Times.
• An article in The New York Times on sugar substitutes opens with a description of Stevia's 15 minutes of fame in Breaking Bad's series finale.
• The Sydney Morning Herald deems Breaking Bad the best show of the year, which "built to a breathless, gripping, irresistible crescendo."
• Breaking Bad is the best show of 2013, hails The San Francisco Chronicle which dubbed it "one of the greatest TV series ever."
• One of the Orlando Sentinel's favorite TV shows was Breaking Bad, which "did more for television's creative reputation than any other program."
• The Salt Lake Tribune names Breaking Bad to its top 10 list, as Walt's tale "played out perfectly, providing one of the best series finales ever."
• In awarding Breaking Bad the title of the year's best show, CarterMatt.com describes the final episode as "one of the best finales in history, and a testament to [Vince] Gilligan's clear vision."
• Den of Geek applauds the Breaking Bad finale, saying, "It's likely we won't see another series pull off this kind of storytelling mastery for quite some time."
• RJ Mitte writes in The Guardian, "I wouldn't be the person I am today without Breaking Bad."
• One of TV's best 2013 moments, in GIF form, is Jesse leaving it all behind in the series finale, according to The Huffington Post.
• The Vancouver Sun recommends binge-watching Breaking Bad, asserting that "Walter White and Jesse Pinkman will haunt you until the end."
• TV Fanatic's choices for the best dramatic performance of 2013 include Bryan Cranston, who made Walt "a presence, not just another character."
• Den of Geek calls Walter Hartwell White "the defining TV character of 2013," who was "so brilliantly conceived and performed that we continued to care even when he slipped beyond his own moral event horizon."
• GQ's list of what to watch on TV in 2014 includes Breaking Bad's spinoff starring Bob Odenkirk as Saul.
• NPR hails All the Way, about Lyndon Johnson as played by Bryan Cranston, who "captured all of the president's neurotic swagger, political genius and fatal flaws."
• Digital Spy reports that a list of the year's most charitable stars includes Bryan Cranston and Aaron Paul.
• To stay up-to-date on the latest news about Breaking Bad, sign up for the weekly newsletter Breaking News.
Read More