Awards
Breaking Bad's Vince Gilligan Wins Directors Guild Award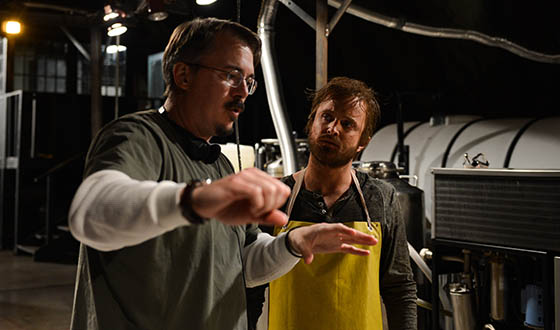 The Directors Guild of America held its annual DGA Awards last night and Breaking Bad won the prize for Outstanding Directorial Achievement in Dramatic Series. Showrunner and director Vince Gilligan nabbed the award for his work on "Felina," the final episode in the series. His directorial team on that episode were as follows:
Unit Production Manager: Stewart A. Lyons
Assistant Unit Production Manager: James Paul Hapsas
First Assistant Director: Nina Jack
Second Assistant Directors: Anna Ramey, Louis Lanni
Second Second Assistant Director: Joann Connolly
Additional Second Assistant Director: Marcia Woske
This is Gilligan's first DGA win and his second nomination. Fellow Breaking Bad director Bryan Cranston was also nominated in this category for directing Season 5, Episode 9, "Blood Money." Other nominees were David Fincher (House of Cards), Lesli Linka Glatter (Homeland) and David Nutter (Game of Thrones).
For more details on the DGA Awards, visit the DGA website.
Read More