Press
Breaking Bad Triumphs at Golden Globes; Salon Talks Lessons From Breaking Bad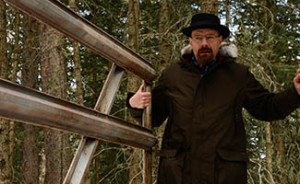 This week, the Golden Globes are a triumph for Breaking Bad, while Salon details what your favorite TV show can learn from Breaking Bad. Plus, there will potentially be lots of Breaking Bad cast members showing up on Better Call Saul. Read on for more:
• The Huffington Post reports that Breaking Bad and Bryan Cranston both went home with Golden Globes, for best television drama and best actor in a TV drama. Aaron Paul concludes Vince Gilligan's acceptance speech with a wildly appropriate "Yeah, bitch! Thank you!"
• The New York Times notes that Bryan Cranston "received a raucous standing ovation" when he won. Cranston was one of this year's winners who received his first Golden Globe ever, although it "seems unbelievable," according to The Huffington Post. Entertaiment Weekly observes that Breaking Bad is still eligible for the Emmy awards later this year, so "you probably haven't seen the last of the Bad cast onstage at an awards ceremony."

• People.com reports that Breaking Bad was tweeted about 28,117 times a minute during the Golden Globes awards ceremony, the most of any TV show.
• Salon thinks the genius of Vince Gilligan was that he "didn't know how the show would end when he started it, but he knew that it would come to a close."
• Backstage at the Golden Globes, Vince Gilligan talks about getting the band back together for Better Call Saul, according to The Hollywood Reporter.
• Betsy Brandt tells Vanity Fair that she's up for appearing on Better Call Saul, saying, "I would do anything to be on the spin-off."
• TheWrap gets some details about Better Call Saul from AMC's Charlie Collier and Joel Stillerman, including the fact that "it will be a drama, but it will also be very funny, as Bob's character was" on Breaking Bad.
• Meanwhile, Better Call Saul will make its debut in November, according to The Hollywood Reporter.
• TV Overmind shares 12 facts about Bryan Cranston that "even the most enthusiastic fan might not know."
• According to the Los Angeles Times, Vince Gilligan and Bryan Cranston are both nominated for Directors Guild of America awards, the former for "Felina" and the latter for "Blood Money." Cranston also got a nod for directing an episode of ABC's Modern Family, "The Old Man & The Tree."
• Mark Freeborn is nominated for an Art Directors Guild award for the series finale, "Felina," according to The Hollywood Reporter.
• Breaking Bad's editors — Skip MacDonald, Kelley Dixon and Chris McCaleb — nabbed four out of five ACE Eddie Awards nominations in the one-hour series for commercial TV category, says Variety.
• Variety reports that the Make-Up Artists and Hair Stylists Guild nominated Breaking Bad's Georgie Sheffer and Carmen L. Jones in the contemporary hair styling category, as well as Tarra Day and Sheila Trujillo Gomez in the contemporary make-up category.
• According to TheWrap, Breaking Bad's sound team — Darryl L. Frank, Jeffrey Perkins, Eric Justen and Kathryn Madsen — got a nod from the Cinema Audio Society in the one-hour television series category for its work on the series finale, "Felina."
• The Hollywood Reporter says the Gay and Lesbian Entertainment Critics Association has nominated Breaking Bad as the TV drama of the year and Bryan Cranston as the male TV performance of the year.
• Uproxx showcases 10 memorable TV scenes that were more real than you think, including Season 1's "Crazy Handful of Nothin'" when Anna Gunn didn't see Walt's bald head for the first time "until the cameras were rolling — she wanted to be as surprised as Skyler White."
• USA Today reports that Rotten Tomatoes gave a Golden Tomato award to Breaking Bad for being the best-reviewed TV drama in 2013.
• The Huffington Post reports that Breaking Bad's final eight episodes will be available on Netflix on Feb. 24.
• According to Deadline, Tom Schnauz has signed a two-year deal with Sony TV and, as part of the deal, will join Better Call Saul.
• A scene from Breaking Bad featuring Bryan Cranston shows up in the opening sketch for the People's Choice Awards. Breaking Bad also won the award for Favorite Series We Miss Most.
• Comic Book Resources eagerly anticipates Better Call Saul, saying, "It looks like Saul (and maybe even Mike, Walt and Jesse) will be back on television by the end of the year."
• Motorward analyzes the different vehicles used in Breaking Bad.
• We Got This Covered's review of Cold Comes the Night calls Bryan Cranston "an exceptionally strong antagonist, equal parts menacing and mysterious."
• Time Out Chicago's list of books to read this year includes Bob Odenkirk's A Load of Hooey, out Sept. 9.
• Moviepilot has the trailer for Small Time, a film coming out later this year that stars Dean Norris.
• To stay up-to-date on the latest news about Breaking Bad, sign up for the weekly newsletter Breaking News.
Read More