Press
Time Dubs Walt Most Influential Character of 2013; Warren Buffett Poses as Heisenberg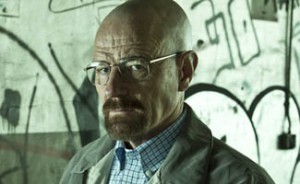 This week, Walt is named by Time as the fictional character with the most influence this year, while Warren Buffett's Christmas card features the billionaire as Heisenberg. Plus, Bryan Cranston and Vince Gilligan talk to The Hollywood Reporter about breaking rules. Read on for more:
• Walt — "TV's most talked-about antihero" — is Time's most influential fictional character of the year.
• Warren Buffett's Christmas card features the Oracle of Omaha dressed as Heisenberg with the message, "Have Yourself a Meth-y Little Christmas," according to Yahoo! Finance.
• The Hollywood Reporter's "Rule Breakers" issue features Bryan Cranston and Vince Gilligan reminiscing about each other and what made Breaking Bad what it became.

• E! Online's list of the year's top TV is headed by Breaking Bad, which had an ending that was "sensational, making it one of the best shows of 2013. And ever."
• The Hollywood Reporter also puts Breaking Bad at No. 1, asking, "What more could possibly be said about this show that hasn't been said already?" [No link.]
• The Associated Press's top 10 list includes Breaking Bad, which "retired undefeated as TV's best ever."
• Breaking Bad — which had the "most talked about and gratifying series finales in modern TV history" — is also considered one of The Daily Beast's top shows.
• According to Forbes, one of the best things on TV this year was the fact that Vince Gilligan "stuck the landing of the best show on television."
• In its best-of list, Slate observes that watching Breaking Bad was "always a pulse-racing, stomach-churning, odds-calculating full body experience."
• Breaking Bad is voted the top show in HitFix's 2013 Television Critics Poll.
• The StarTribune recommends the complete series box set, noting that "the bonuses may be worth the investment" (especially the two-hour making-of documentary).
• CarterMatt thinks one of the year's biggest shockers was Walt's video message for Hank in "Confessions," describing it as "jaw-dropping." CarterMatt also asserts there is "probably no other show that will be on as many Top Ten Lists as this one."
• E! Online counts Walt's demise as one of the 20 most shocking deaths in recent TV history.
• Time reports that Breaking Bad garnered the most Twitter buzz of any TV show in 2013, according to Nielsen.
• The New York Post recommends taking advantage of AMC's Breaking Bad marathon (starting Dec. 27) and binge-watching the drama during the holidays.
• The Huffington Post's album of the year's most iconic celebrity photos features Bryan Cranston in the series' final scene.
• Variety reports that Netflix has struck a deal to stream episodes of Better Call Saul after the Breaking Bad spinoff airs next year. Forbes calls the Netflix deal a possible "game changer."
• Dean Norris has been cast in Jason Reitman's Men, Women and Children, according to The Hollywood Reporter.
• Also in The Hollywood Reporter, A Long Way Down — a film starring Aaron Paul — will have its world premiere at the Berlin International Film Festival in February.
• Vulture reports that Aaron Paul's voice will be heard in a Netflix original series called BoJack Horseman, a cartoon that also stars Will Arnett.
• Catch a glimpse of RJ Mitte in a trailer for ABC Family's Switched at Birth, courtesy of The Hollywood Reporter.
• In its review of the complete series Blu-ray, IGN calls the collection "the chance to continually revisit a show that is truly remarkable and stands out as an example of the very best that television can offer."
• The Chicago Tribune reviews the audiobook of Tim O'Brien's The Things They Carried, which is narrated by Bryan Cranston — who "shows his versatility and insight in his narration."
• Badfinger's "Baby Blue" — heard in the series finale — is one of the songs that was "due for its cultural comeuppance and summoned forward in time" in 2013, according to Radio.com.
• To stay up-to-date on the latest news about Breaking Bad, sign up for the weekly newsletter Breaking News.
Read More