Press
Breaking Bad Tops TV Guide, USA Today Lists; THR Trumpets Aaron Paul's SNL Cameo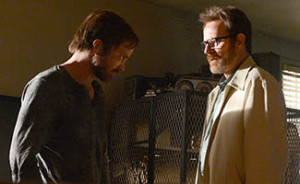 This week, TV Guide and USA Today choose Breaking Bad as the year's best show, while The Hollywood Reporter is still enthralled by Aaron Paul's Saturday Night Live appearance. Plus, several episodes are selected as the finest of 2013. Read on for more:
• TV Guide honors Breaking Bad as the best show on TV this year, applauding, "What a way to go out — with a bang, on a tragic yet triumphant high, at the peak of popularity and notoriety."
• "Vince Gilligan, the cast and crew did a flawless job of capturing the end of Walter White's long, dark road," writes USA Today, which puts Breaking Bad at the top of its best TV drama list.
• TheWrap compliments Breaking Bad as "the best show ever made." HitFix also chooses it as the year's No. 1 drama, as the episodes leading to the finale "made for one of the most gripping, devastating stretches of dramatic television in the medium's history."
• The Hollywood Reporter's must-see Saturday Night Live moments of the year includes Aaron Paul's appearance as Jesse in an Obamacare skit.
• Breaking Bad's final three episodes — "a self-contained mini-season charting the sudden exit, exile, return, and demise of Walter White" — topped Vulture's list of the top drama TV episodes of 2013.
• By the same token, Canada's Postmedia News thinks "Ozymandias" was "arguably the year's finest single hour of television."
• The Hollywood Reporter's biggest scripted TV moments this year include "Felina," Breaking Bad's "emotional" series finale.
• TV Guide selects Breaking Bad as one of the 60 best series of all time, with Bryan Cranston's "transformative performance" cited as "one for the ages."
• Breaking Bad — "a marvel of clever plotting, sharp writing and extraordinary acting" — is No. 1 on the San Jose Mercury News' top 10 list. It's also the best according to TV critic David Bianculli, who tells NPR it "ended as brilliantly as it began. I'm so grateful for that series."
• The Los Angeles Times considers Breaking Bad one of the year's best: "A microcosm of mayhem turned the antihero on his head, emptied his pockets, stripped him naked and called it a day. Control never had it so good."
• Forbes also applauds Breaking Bad, which "delivered its finest season in its six-year run", as one of the year's best dramas.
• Naming Breaking Bad one of 2013's most outstanding TV shows, Us says, "Walter White (Bryan Cranston) and this raw drama went out with, yes, an unflinching bang. Required viewing for any year."
• Breaking Bad is deemed one of 2013's best by the New York Daily News, which notes that Walt's "story ended the only way it could, leaving an unsettling legacy of questions."
• USA Today pays homage to TV's gone-but-not-forgotten, like Walt — who "died, fittingly, in a meth lab."
• E! Online ranks Walt's deaths as TV's best this year, saying he "went out in truly Heisenbergian fashion."
• Walt's endgame was one of the best things about the TV year, according to The Denver Post.
• TV.com's Top 100 Everything of 2013 includes the closing scene from the Season 5 midseason premiere, a moment where Dean Norris "proved he could go up against the master and maybe even steal a scene from him."
• Variety reports that two Breaking Bad writers have joined fellow alum Peter Gould on the Breaking Bad spin-off.
• Digital Spy considers Walt one of the year's best TV characters, calling him "a fully realized, faultlessly detailed portrait of a human being in flux."
• Jesse is one of Grantland's 10 best sidekicks of the year.
• What TV does Vince Gilligan watch? He tells NPR.
• Vulture recommends catching up on Breaking Bad because "all the hype is true: It really is that good."
• The New York Post reports the release of scripts from Season 1 as an eBook.
• Technabob features an "awesome" Breaking Bad chess set.
• Go to ComicBookMovie.com to see the poster for Need for Speed, which prominently features Aaron Paul.
• To stay up-to-date on the latest news about Breaking Bad, sign up for the weekly newsletter Breaking News.
Read More