Press
Breaking Bad Nabs Three Golden Globe Nominations; Bryan Cranston Chats With NY Times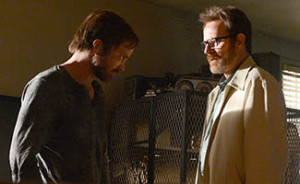 This week, Breaking Bad receives three Golden Globe nods, while Bryan Cranston talks Walt and Shakespeare with The New York Times. Plus, the drama appears on several lists of the year's best. Read on for more:
• The Huffington Post reports on Breaking Bad's three Golden Globe nods in the TV drama category for Best Series, Best Actor for Bryan Cranston and Best Supporting Actor for Aaron Paul. Vulture, The New York Times, The Hollywood Reporter, Los Angeles Times, USA Today, Variety, New York Daily News, The Wall Street Journal, The Washington Post and The Chicago Tribune also cover the nominations.
• Talking to The New York Times, Bryan Cranston calls Walt the richest character he's played to date, saying, "The depth of this tragic story made it feel like the character reached Shakespearean level."
• Breaking Bad is No. 1 on The Hollywood Reporter's list of the best cable dramas: "it's inconceivable to me how this could be anything other than No. 1."
• Time names Breaking Bad one of 2013's top 10 shows, observing that, "like the glaring desert sun, this show's ending shone an unsparing light on Walter's sins and their repercussions."
• The American Film Insitute names Breaking Bad to its list of TV Programs of the Year, according to Indiewire.
• Vulture calls Breaking Bad one of the year's 10 best TV shows, observing that the "searing final stretch of Vince Gilligan's drug drama did not disappoint."
• Breaking Bad tops Indiewire's list of 2013's best shows, especially because of its ability to "stick the landing, against all odds."
• Season 5's "Ozymandias" is Time's best TV episode of 2013 because it's "the greatest hour of one of TV's greatest dramas." Honorable mention goes to "To'hajilee" and "Granite State."
• The New Yorker, resistant to top 10 lists, says Breaking Bad is one of the shows this year that it "enjoyed the most."
• The Washington Post's top 2013 TV moment is Walter White's exit strategy, describing Breaking Bad as "arguably the best TV show in a generation."
• OnMilwaukee.com awards Breaking Bad its accolade for best TV of 2013, lamenting, "This will be the last time I can list Breaking Bad as my favorite show on TV."
• The Screen Actors Guild honors Breaking Bad with four nominations, the most of any TV show this year, reports The Huffington Post. The Los Angeles Times thinks Breaking Bad "could do especially well this awards season as a kind of parting gift" since it ended its run this year.
• Breaking Bad received four Writers Guild of America nominations, the most of any TV show, according to the Chicago Tribune. E! Online cheers, "We love any excuse to talk about Breaking Bad, even though the show is long gone."
• What are Breaking Bad's top 10 moments? Time reveals its candidates.
• Yahoo TV reports that Bryan Cranston directed this year's Christmas episode of ABC's Modern Family.
• Breaking Bad: The Complete Series — the "best TV drama series of all time" — is on the Associated Press' list of holiday home video releases.
• This season's most shocking TV deaths, according to TheWrap, include Walt and his "perfect television death."
• The Chicago Tribune reports on the four-day Breaking Bad marathon that will start airing on Dec. 27.
• Variety reports that one of Breaking Bad's writers, Gennifer Hutchison, will adapt The Red Queen, a book by Victoria Aveyard, for Universal.
• U.K.'s The Telegraph asks which Golden Globe nominee is better, Downton Abbey or Breaking Bad, and gives readers a chance to weigh in.
• Up and Comers has the first photos of Aaron Paul in an indie drama called Hellion, which will screen at the Sundance Film Festival in January.
• ComingSoon.net says that Entertainment One has secured the domestic distribution rights to Decoding Annie Parker, a film starring Aaron Paul.
• Deadline reports that Kevin Rankin will join Anna Gunn in FOX's Gracepoint.
• TVWise has photos of David Costabile in BBC One's Ripper Street's two-part series finale.
• AllThingsD explains the lessons about entrepreneurship that can be learned from Breaking Bad.
• To stay up-to-date on the latest news about Breaking Bad, sign up for the weekly newsletter Breaking News.
Read More