Press
Adweek's Hot List Winners Include Vince Gilligan, Breaking Bad; Made Man Honors Gilligan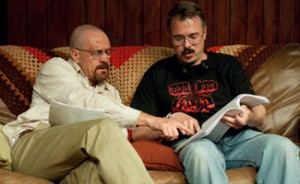 This week, Breaking Bad and Vince Gilligan make it onto Adweek's Hot List, while Gilligan is one of Made Men's 2013 Men of the Moment. Plus, Skyler and Jesse are now popular baby names. Read on for more:
• Vince Gilligan and Breaking Bad are two of Adweek's Hot List TV winners.
• Made Man does a video interview with Vince Gilligan as part of an end-of-the-year program honoring outstanding men's achievement.
• More parents are naming their children "Skyler" and "Jesse" because of Breaking Bad, according to Sky News.
• Breaking Bad notches a Producers Guild of America award nomination in the category of "Outstanding Producer of Episodic Television, Drama," says The Hollywood Reporter.
• Yahoo TV interviews Peter Gould about Saul's genesis, how "we needed a voice for the lightness of the show, but we also needed someone who really knew the underworld."
• HitFix offers an all-Breaking Bad podcast, which includes a "discussion of the overall greatness of the series and where it might fit into the Pantheon now that it's done."
• Bob Odenkirk tells the Boston Herald that he's "unbelievably excited" about the Saul-centered Breaking Bad spin-off.
• Breaking Bad is honored with four Satellite Award nominations, according to The Hollywood Reporter.
• The New York Times's round-up of complete TV series on DVD — for "the completists, the binge viewers and the difficult-to-buy-for relatives who do nothing but watch TV" — includes Breaking Bad.
• DVD Talk's review of the final season's Blu-ray calls it "the strongest season of television I've seen in… perhaps ever."
• Yahoo TV watches No Half Measures, the documentary about the making of Breaking Bad, and shares 15 things it learned.
• Bustle is thankful this Thanksgiving for nine TV characters, including Jesse, "by far the most-loved person on Breaking Bad."
• Courtesy of the Daily Mirror, check out an "amazing" Breaking Bad-themed graffiti art piece that's currently on display in London.
• Business Insider highlights the "coolest feature" on the Breaking Bad complete series box set.
• According to The Hollywood Reporter, Laura Fraser has been cast in a BBC drama called Castles In The Sky that stars Eddie Izzard.
• We Are Movie Geeks spotlights the poster for Cold Comes the Night, which stars Bryan Cranston and opens Jan. 10.
• Ireland's entertainment.ie has a video of a voice actor and impressionist who imagines Jesse re-cast as Gandalf in The Hobbit.
• To stay up-to-date on the latest news about Breaking Bad, sign up for the weekly newsletter Breaking News.
Read More