Press
10 Ways to Get Ready for the Complete Breaking Bad Marathon Dec. 27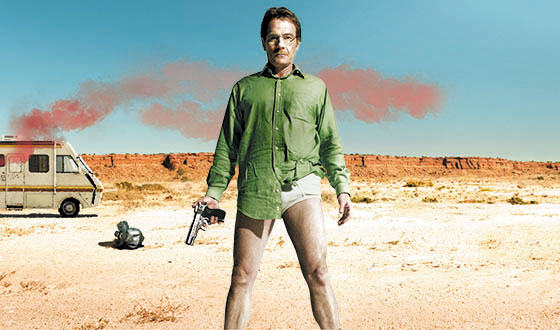 AMC will end 2013 in style with a four-day marathon of Breaking Bad. From Fri., Dec. 27 through Mon., Dec. 30 (starting at Noon/11c each day), the series' critically acclaimed five seasons roll out back-to-back starting with the Pilot on through the unforgettable Series Finale. Can't wait? Here are ten ways to get ready…
1. Update your Facebook Timeline image with help from the Breaking Bad Name Lab (Suddenly, your name looks like the opening credits!)
2. Listen to Breaking Bad's Emmy-winning editor Kelley Dixon's Insider Podcasts with Vince Gilligan, Bryan Cranston and other cast/crew members.
3. Play the Breaking Bad graphic novel games: Track down stolen cash as Jesse in "The Cost of Doing Business" OR Interrogate a suspect as Hank in "The Interrogation."
4. Prove your devotion to the show via Breaking Bad Ultimate Fan Games, which quiz you on seasons, episodes, characters, quotes, and even cars from the show.
5. Visit Saul Goodman's website for infomercials, video testimonials, e-cards and fashion advice, then sign up for Better Call Saul updates to get the latest news on the Breaking Bad spin-off.

6. Get a close look Walter, Jr.'s Save Walter White page as seen in Season 2 Episode 12, "Phoenix."
7. Thumb through Hank's case file for Gale Boetticher's murder investigation — including lab notes, crime scene photos and a video of Gale singing karaoke.
8. Check out interviews with Bryan Cranston, Aaron Paul, Vince Gilligan and the rest of the cast and crew to find out how Breaking Bad was brought to life each season. (Behind-the-scenes videos accompany each Q&A.)
9. Revisit Breaking Bad's six iconic posters then vote on your favorite.
10. Relive memorable moments from the series ("I am the one who knocks!") with these Breaking Bad quote cards.
The Complete Breaking Bad Marathon begins on Fri., Dec. 27 at Noon/11c on AMC.
Read More