Press
Vince Gilligan, Anna Gunn Set for Sitcom Appearances; Gilligan Salutes Albuquerque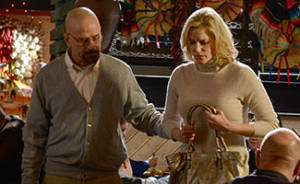 This week, it's reported that Anna Gunn and Vince Gilligan are slated to appear on The Mindy Project and Community, respectively, while Gilligan speaks to the importance of Breaking Bad's Albuquerque location. Plus, Bryan Cranston is AskMen's third-most influential man. Read on for more:
• Watch for Vince Gilligan to make his acting debut in an episode of Community, joining Giancarlo Esposito and Jonathan Banks on the NBC sitcom's roster of guest stars, Entertainment Weekly reports.
• E! News reports that Anna Gunn will make a guest appearance on FOX's The Mindy Project this season.
• Vince Gilligan tells a panel that shooting Breaking Bad in Albuquerque "really helped make the show a post-modern sort of western," according to Variety.
• AskMen ranks Bryan Cranston No. 3 on its list of the 49 most influential men, citing his "undeniably masterful" performance in Breaking Bad.
• On The Tonight Show With Jay Leno, Anthony Hopkins speaks about his admiration for Breaking Bad, Bryan Cranston and all of the drama's actors.
• New York posts a "lovingly made video tribute" that traces Jesse's evolution.
• Bob Odenkirk tells IGN that the details of the Breaking Bad spinoff are still being hashed out: "I know they've talked about prequel, but they've also talked to me about sequel, and they've also talked to me about a mix of prequel and sequel."
• The Calgary Herald interviews Dean Norris, who calls Season 5 "a really special final season. I love the way I went out."
• GoldDerby shares what it learned from Peter Gould's discussion at the Vancouver International Film Festival, including how Gus came to be as an antagonist for Walt.
• Breaking Bad finishes at No. 2 on The Oregonian's list of the top 10 greatest TV series finales, applauding the closure it provided for the show's characters and viewers.
• Rolling Stone calls Bill Burr "the new Louis C.K."
• International Digital Times reports that the Blu-ray of the entire series will be released on Nov. 26.
• Yahoo! TV offers five plots that the Saul Goodman spinoff could incorporate.
• To stay up-to-date on the latest news about Breaking Bad, sign up for the weekly newsletter Breaking News.
Read More