Press
GQ Names Vince Gilligan Man of the Year; Aaron Paul Books Film Role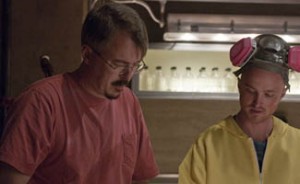 This week, Vince Gilligan is interviewed by GQ for its man of the year feature, while Variety reports that Aaron Paul will star in a film with Russell Crowe. Plus, Bryan Cranston will open on the Great White Way in March. Read on for more:
• GQ interviews Vince Gilligan, the magazine's Kingpin of the Year, calling him the "geeky, self-effacing, devious mastermind behind Breaking Bad."
• Aaron Paul has booked a new film, according to Variety, which reports that the Breaking Bad actor will star in Fathers and Daughters, alongside Russell Crowe and Amanda Seyfried.
• Bryan Cranston is set to open on Broadway in All the Way, about President Lyndon Johnson, on March 6, The New York Times reports.
• Rolling Stone attended a screening of No Half Measures, the making of Breaking Bad documentary — and stayed for a Q&A with Bryan Cranston, Vince Gilligan, Dean Norris, RJ Mitte, Bob Odenkirk and Lavell Crawford. HitFix, Los Angeles Times and Variety share their thoughts on the documentary.
• Jimmy Kimmel's latest edition of "Mean Tweets" about celebrities read by the celebrities themselves includes Aaron Paul and Dean Norris.
• Fast Company spotlights an infographic that's a character map for Breaking Bad.
• Ahead of the release this week of the complete series set, MTV has a clip from a behind-the-scenes featurette that answers the question, "What was Vince Gilligan's actual job?"
• Meanwhile, Entertainment Weekly shares a clip from the final season gag reel that features "Matt 'Badger' Jones versus a bong, [Aaron] Paul versus a pack of cigarettes, and [Bryan] Cranston versus two faucets and an A-1 door."
• Rolling Stone offers a clip from the "stunningly cool" Breaking Bad: The Complete Series box set where Bryan Cranston and Vince Gilligan share a laugh at Dean Norris' expense.
• Another clip from the complete series Blu-ray set, courtesy of Entertainment Weekly, highlights the shooting of the famous "Tread Lightly" scene from the Season 5 Midseason Premiere.
• Plus, Entertainment Weekly includes Breaking Bad: The Complete Series on Blu-ray in its holiday gift guide.
• The Hollywood Reporter names Emily Rios to the "Young Hispanic Hollywood Class of 2013."
• Watch David Blaine freak out Bryan Cranston and Aaron Paul when he pushes an ice pick through his hand, courtesy of The Huffington Post.
• Movie Fanatic presents some photos from Need for Speed, which stars Aaron Paul.
• Giancarlo Esposito is set to direct and star in Patriotic Treason, a film that will also feature Ed Harris as John Brown, the famous abolitionist, according to Deadline.
• Broadway World reports on new developments for Flesh and Bone, a new Starz drama that boasts Breaking Bad's Moira Walley-Beckett as writer and executive producer.
• Glamour is excited by Flesh and Bones' Breaking Bad/Moira Walley-Beckett connection and thinks it's "gonna be the best damn show on American television."
• To stay up-to-date on the latest news about Breaking Bad, sign up for the weekly newsletter Breaking News.
Read More