Press
David Blaine Wows Bryan Cranston, Aaron Paul; Vince Gilligan Talks Saul Goodman Spin-Off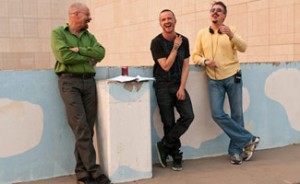 This week, David Blaine does a card trick for Bryan Cranston and Aaron Paul, while Vince Gilligan tells FOX Business about the Saul spin-off series. Plus, The New York Times talks speculation surrounding TV shows, like Breaking Bad. Read on for more:
• People has a clip of David Blaine impressing Bryan Cranston and Aaron Paul with "quite the card trick."
• Vince Gilligan tells FOX Business that the Saul Goodman spinoff will be a prequel and "should be pretty funny."
• Using Breaking Bad as an example, The New York Times declares, "Speculation is the new spoiler."
• In a related article, The New York Times talks to NPR's Linda Holmes about the speculation surrounding the Breaking Bad series finale on her website, "Claim Your Cockamamie Theory."

• Entertainment Weekly recaps this week's episode of CBS's How I Met Your Mother, which featured a return guest appearance by Bryan Cranston.
• Gold Derby does a podcast with Michelle MacLaren, who says of Walt that "we were amazed – as he became a darker and darker character – that people were still rooting for him."
• The Huffington Post has an exclusive look at Jonathan Banks in NBC's Community.
• Bob Odenkirk tells BuzzFeed that the Breaking Bad spinoff with Saul will have "a completely different vibe than Breaking Bad, with that character at the core of it."
• Talking about his new film, Alexander Payne's Nebraska, Bob Odenkirk also tells Metro that Vince Gilligan cast him as Saul because of Mr. Show.
• Movies.com details how Bryan Cranston was instrumental in the making of Writer's Block, a short film written by a production assistant and aspiring director, Brandon Polanco.
• Zimbio highlights actors who were on Seinfeld before they were famous, including Bryan Cranston and Anna Gunn.
• TheWrap reports that Emily Rios will be a guest star on NBC's Grimm in an episode airing early next year.
• RJ Mitte was a presenter at this week's 2013 MTV Europe Music Awards, according to The Hollywood Reporter. Mitte also made up a new "rule" about presenters and winners, MTV reports.
• Digital Spy learns from RJ Mitte that he hopes to play in a band one day, even though "I only have one good hand and one good ear."
• RJ Mitte talks to The Windsor Star about being bullied while growing up and says he loved Breaking Bad's finale: "I think every amazing story has to have an amazing ending — and we had our amazing ending."
• Rosie O'Donnell tells TheMusic.com.au that surviving a near-death experience meant she didn't have to miss the Breaking Bad series finale.
• To stay up-to-date on the latest news about Breaking Bad, sign up for the weekly newsletter Breaking News.
Read More