Press
Vince Gilligan Graces THR Cover; EW Spotlights Breaking Bad Behind-the-Scenes Shots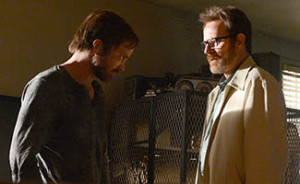 This week, The Hollywood Reporter's cover features Vince Gilligan, while behind-the-scenes photos from Breaking Bad appear in Entertainment Weekly. Plus, Gilligan is called one of THR's top showrunners. Read on for more:
• Appearing on the cover of The Hollywood Reporter, Vince Gilligan talks about trying to figure out his next act — and the terror involved. Gilligan also provides some clues to the Saul Goodman spinoff, including possible cameos from Bryan Cranston and Aaron Paul.
• Entertainment Weekly and Enstars feature some of the behind-the-scenes photos posted by Breaking Bad's camera operator.
• Named by The Hollywood Reporter as one of TV's top showrunners, Vince Gilligan calls finishing Breaking Bad's series finale the "end of the best job I will likely ever have."
• Vince Gilligan also answers The Hollywood Reporter's burning questions about Breaking Bad in 84 seconds.
• Chicago Business Journal posts a video of Warren Buffett breaking down Breaking Bad and joking that most people probably identify him with Saul.
• George Mastras has signed a two-year deal with HBO to develop new projects, according to The Hollywood Reporter.
• Deadline reports that Laura Fraser is joining the cast of The Black Box, a limited series on ABC.
• Laura Linney tells Moviefone that she recently binge-watched Breaking Bad.
• FanSided.com has a graphic, created by a Brooklyn artist, that depicts every outfit worn by Walt over the course of Breaking Bad's five seasons.
• Cosmic Book News has a video of Bryan Cranston comparing Breaking Bad to Godzilla, which opens May 2014.
• E! Online advises readers how to dress up like Walt and Jesse, bromance-like, for Halloween.
• Mediabistro reports that Bryan Cranston will narrate an e-book of Tim O'Brien's The Things They Carried.
• Digital Spy reports that David Costabile is joining the Season 2 cast of BBC One's Ripper Street, which debuts on Oct. 28.
• The Daily Register interviews a local who met Aaron Paul twice this summer and got advice from the Breaking Bad star on getting picked on The Price is Right.
• To stay up-to-date on the latest news about Breaking Bad, sign up for the weekly newsletter Breaking News.
Read More