Press
TV Guide Names Finale Best Moment of the Week; EW's Inside Scoop on Last Scene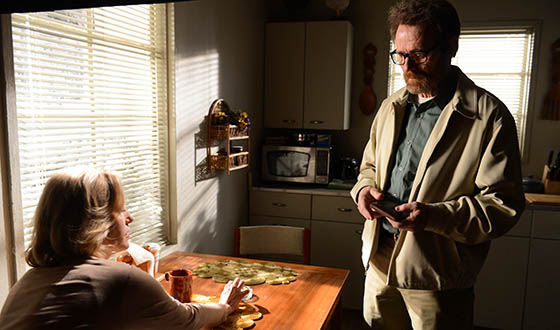 This week, the Breaking Bad finale tops TV Guide's list of the week's top moments, while Entertainment Weekly witnesses the filming of the drama's last scene. Plus, Walter White gets an obituary in the Albuquerque Journal. Read on for more:
• Breaking Bad's finale nabs TV Guide's top moment of the week, concluding, "Don't worry, Walt, we'll always remember your name — just like you wanted."
• Entertainment Weekly recounts watching the shooting of Breaking Bad's last scene, an ending that "felt deeply appropriate and satisfying" to Vince Gilligan and the other writers.
• The Albuquerque Journal showcases a paid obituary of Walter White in the newspaper that starts off "White, Walter aka 'Heisenberg.'"
• The Boston Globe reports that All the Way will head to Broadway, along with its star, Bryan Cranston.
• Breaking Bad got a shout-out on NBC's Saturday Night Live in a skit about a Vince Gilligan production of a Hillary Clinton biopic with Heisenberg overtones, according to The Hollywood Reporter.
• Talking to TV Guide, Betsy Brandt compares playing Hank's wife and Michael J. Fox's wife: "I love this couple and I always loved that about my role on Breaking Bad: That I got to be part of such a really beautiful, real-life couple."
• Dean Norris appears on Ireland's The Saturday Night Show and says, "It was great to be on a show in which every season, every episode you evolved and changed."
• Michelle MacLaren talks to Variety about the various challenges, such as the death of Margaret Thatcher, that Breaking Bad faced while shooting its final episodes.
• NPR speaks with Peter Gould and Thomas Schnauz about Breaking Bad's plot, especially the ending.
• RJ Mitte has booked a recurring role on ABC Family's Switched at Birth, where he'll play a pre-med college student paralyzed by a snowboarding accident, according to The Hollywood Reporter.
• Cinephilia and Beyond has the one-hour video of Vince Gilligan's master class at the Edinburgh International Television Festival, noting it's "a must for any Breaking Bad fan."
• Salon interviews Bob Odenkirk, who indicates that the Saul Goodman spin-off "will be slightly more dark than it is funny."
• Breaking Bad's music supervisor, Thomas Golubi?, did a Reddit Ask Me Anything. ComicBook.com has a highlight from the AMA.
• David Costabile talks to The A.V. Club about his approach to playing Gale, "one of those roles where I auditioned for it and I knew who he was and what the writers wanted…"
• Giancarlo Esposito tells Access Hollywood that Breaking Bad's ending was "one of the best ever seen in history."
• Forbes checks out what's next for Breaking Bad's cast and crew.
• Time reports that an opera based on Breaking Bad is now in development.
• Adam Scott, of NBC's Parks and Recreation, tells The Huffington Post that his favorite Breaking Bad episode was the penultimate episode, "Granite State."
• The Albuquerque Journal interviews the owner of The Grove, a local eatery that was the site of Lydia's poisoning in the series finale.
• In light of Breaking Bad's finale ("that stands alongside the best ever"), The Associated Press examines what makes a good and a bad finale.
• The Washington Post summarizes what happened to all of Breaking Bad's major players as the series ended.
• Variety observes that female directors like Michelle MacLaren, who's helmed episodes of The Walking Dead and Breaking Bad, are "taking on material that is about as far from the three-hanky chick flick as it gets."
• TV.com is still pondering eight Breaking Bad questions because "Breaking Bad may be gone, but that doesn't mean we're done thinking about it."
• Den of Geek picks the 10 best cold opens, saying Breaking Bad is "better than any other I've seen when it comes to the art of the pre-titles sequence."
• IGN chooses 10 episodes that showcase Breaking Bad "at its very best."
• WhatCulture presents Breaking Bad's 25 greatest moments, as well as Heisenberg's eight most diabolical moments.
• Monsters & Critics posts a video from Aaron Paul's hometown screening in Boise, Idaho of one of Breaking Bad's final episodes. In it, he says, "I definitely feel that I still have the Idaho guy in me."
• According to Broadcasting & Cable, Bryan Cranston will narrate Big History, a new series from H2 that attempts to present a unified theory of history.
• Lavell Crawford appears in a Funny or Die video called "Huell's Rules" that envisions which hijinks would ensue once Huell's family joined him in the room where Hank and Gomez left him.
• The Hollywood Reporter talks to Todd Rundgren, who produced the last song heard on Breaking Bad, Badfinger's "Baby Blue."
• Meanwhile, HitFix reports that Badfinger's "Baby Blue" is on track to enjoy an almost 3,000 percent sales increase and was downloaded 5,000 times on Sunday night, when it was heard in Breaking Bad's final episode.
• The Los Angeles Times talks binge-viewing in the context of Breaking Bad.
• A psychiatrist talks to New York about the ramifications of Walt's death on Skyler, Walt Jr. and Jesse.
• designboom posts illustrations of Breaking Bad's characters done in the style of Matt Groening's The Simpsons.
• Digital Spy has a Breaking Bad parody featuring REM's "It's the End of the World As We Know It (I Feel Fine)" redone as "It's the End of Breaking Bad As We Know It (We're Not Fine)" with scenes from the show.
• BostInno reports that the Massachusetts Institute of Technology's "Alchemist" statue was re-imagined as Heisenberg, complete with porkpie hat and goatee.
• Albuquerque's KOB reports that the city's Balloon Fiesta issued a commemorative Heisenberg pin.
• New York features an Aaron Paul mash-up of Breaking Bad and his new film, Need for Speed.
• BlackBook showcases the trailer for a short film called Writers Block that features Bryan Cranston.
• To stay up-to-date on the latest news about Breaking Bad, sign up for the weekly newsletter Breaking News.
Read More