Press
Stephen Colbert Demands More Breaking Bad; Vince Gilligan, Bryan Cranston, Aaron Paul Talk Series Finale With EW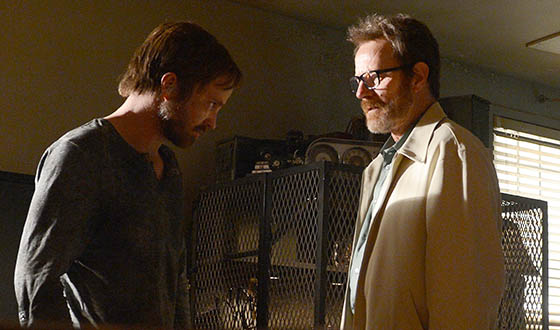 This week, The Colbert Report chains up Vince Gilligan in a bid to get more Breaking Bad episodes, while Vince Gilligan, Bryan Cranston and Aaron Paul share their takes on the series finale with Entertainment Weekly. Plus, Paul makes a show-stealing cameo on Saturday Night Live. Read on for more:
• Stephen Colbert, displeased that Breaking Bad is over, resorts to chaining Vince Gilligan to a laptop, demanding more episodes.
• Entertainment Weekly speaks to Vince Gilligan about the series finale and hopes that Jesse "moves to Alaska and has a peaceful life communing with nature." Bryan Cranston and Aaron Paul also talk "Felina" with EW.
• Aaron Paul, popping up on Saturday Night Live's season premiere, "steals the show," according to The Hollywood Reporter.
• On the CBS Morning News, Vince Gilligan discusses Charlie Rose's cameo in the penultimate episode — with Charlie Rose.
• The New York Times reports that Vince Gilligan has inked a deal to bring his police drama, Battle Creek, to CBS next fall.
• Entertainment Weekly is one of many news outlets to report that the ratings for the series finale — 10.3 million viewers — smashed all of its previous records.
• Vanity Fair, The Hollywood Reporter, the Los Angeles Times and The Huffington Post provide some interesting tidbits from the Breaking Bad finale extravaganza at Hollywood Forever Cemetery.
• Billionaire superfan Warren Buffett tells The Wall Street Journal of the series finale, "I had sky-high expectations and they were exceeded."
• Peter Gould, a writer and co-executive producer, talks to The Hollywood Reporter about crafting Breaking Bad's ending — and offers a tiny tease of the Saul spinoff he's spearheading.
• /film has a clip of Bryan Cranston and Aaron Paul preparing to read the series finale script for the first time.
• RJ Mitte talks to TODAY about all the devastating losses Junior suffered in a short period of time: "He's lost his friends, his family, his life, his father, even. He lost his uncle which was like a father figure to him."
• Laura Fraser, discussing the series finale with New York, says she has "all these images of Lydia's daughter and Holly ending up as teenage meth addicts on the street." Fraser also speaks to The Guardian.
• The Associated Press has 10 lessons Breaking Bad leaves behind, including "Family is oh, so important."
• The meaning of Badfinger's "Baby Blue," the last song played on Breaking Bad, is examined by The Hollywood Reporter and Rolling Stone.
• Entertainment Weekly asks the Breaking Bad cast, "What was the one scene that they always wanted to shoot but it just never happened?"
• Vince Gilligan and Breaking Bad's stars tell The Hollywood Reporter and Entertainment Weekly about their favorite moments and memories from the series.
• Bryan Cranston talks about Walt and Lyndon Johnson with Time.
• Breaking Bad's stars share with Entertainment Weekly the props they took as souvenirs.
• Michael Bowen talks to The Hollywood Reporter about playing Todd's Uncle Jack and how he was "ready to cry" when his character had to kill Hank.
• The Hollywood Reporter also interviews Emily Rios about Andrea's death and shooting her favorite scene.
• TheWrap suggests that "filmmakers should try emulating the things that made the show [Breaking Bad] such gripping fun."
• Variety says Breaking Bad could teach "showbiz" a few lessons, "especially given its prominence in the digital space."
• Time interviews Giancarlo Esposito, who characterizes Gus as a person "hiding in plain sight, where everyone saw him as ambitious and community-minded and didn't see the darkness in him." Esposito also speaks with MTV and Arsenio Hall.
• Ahead of the series finale, Time interviewed David Costabile, Mark Margolis, Raymond Cruz, Jonathan Banks and Peter Gould.
• Forbes interviews Breaking Bad's cinematographer Michael Slovis, production designer Mark Freeborn, producer Thomas Schnauz, co-executive producer Melissa Bernstein and editor Kelley Dixon.
• The Hollywood Reporter features a gallery of Breaking Bad's 10 most mind-blowing episodes, while Forbes lists eight perfect moments from the drama.
• CBS Sunday Morning cites Breaking Bad as an example of TV's second golden age, where TV pushes past its traditional boundaries.
• Because of TV shows like Breaking Bad, screenwriters are looking for TV projects, according to the Los Angeles Times.
• Jesse is one of Entertainment Weekly's most unfortunate TV characters: "Poor, poor Jesse might be the only real 'good guy' on Breaking Bad, which makes his tragic life even more upsetting."
• Jeremiah Bitsui is interviewed by Indian Country Today about playing Victor and his character's violent end.
• The Los Angeles Times has a gallery of Breaking Bad's darkest moments.
• Consequence of Sound offers a list of Breaking Bad's top five musical moments.
• Discovery examines the science behind five particularly grisly Breaking Bad deaths.
• Metro checks out Saul's sartorial style.
• Salon theorizes that Breaking Bad has gotten millenials to watch TV episodes live.
• Web2Carz profiles Larry Hankin, who had a memorable supporting turn on Breaking Bad as the junkyard proprietor.
• TheWrap checks out the trailer for Need for Speed, starring Aaron Paul, and says "it's all the bang-up car-chase fun of Fast & Furious."
• Rolling Stone's review of All the Way applauds the production and Bryan Cranston, who "inhabits the shrewd and comically profane LBJ's suits and slippers so thoroughly, even the most diehard Breaking Bad fans will forget Walter White for a night."
• The Hollywood Reporter offers its take on the five most shocking quotes from Breaking Bad's series finale.
• For recaps and reviews of the series finale — Season 5, Episode 16, "Felina" — check out A.V. Club, CBS News, The Daily Beast, Entertainment Weekly, The Hollywood Reporter, Newsday, The New York Times, Rolling Stone, the San Francisco Chronicle, Time, TVLine, USA Today, Variety, The Wall Street Journal and TheWrap.
• To stay up-to-date on the latest news about Breaking Bad, sign up for the weekly newsletter Breaking News.
Read More