Press
Bryan Cranston Shares Lesson Learned From Breaking Bad; EW Checks Out Series Finale Script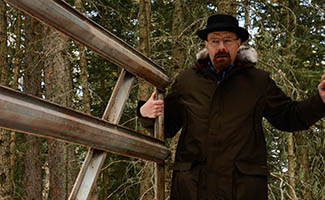 This week, Bryan Cranston tells USA Today the lesson he learned from Breaking Bad, while Entertainment Weekly posts the last two pages of the series finale script. Plus, Breaking Bad on ice is the newest iteration of the drama. Read on for more:
• Bryan Cranston talks to USA Today about narrating H2's Big History and what he learned from Breaking Bad.
• Entertainment Weekly showcases the final pages of the series finale script, observing that it's "illuminating to see how Gilligan framed the final sequence of events."
• The Hollywood Reporter speaks with Sharidan Williams-Sotelo, a Breaking Bad assistant editor who created Breaking Bad on ice, with some help from Vince Gilligan and Dave Porter.
• The Hollywood Reporter cites Vince Gilligan's forthcoming Battle Creek as an example of TV networks bypassing pilot episodes for direct-to-series orders.
• The Guardian says Breaking Bad is an example of why TV is better than the movies.
• Aaron Paul posts some shots of Bryan Cranston on the Breaking Bad set — and writes, "I miss this man."
• At the 20th Annual Austin Film Festival, YNN talked to Vince Gilligan before a reading of his story, Two-Face, starring Will Ferrell.
• The Hollywood Reporter says that Walter White is the second most-searched celebrity/pop culture-themed Halloween costume, according to Yahoo.
• The Albuquerque Journal spotlights locals who gained some fame from appearing on Breaking Bad.
• The Fresno (Calif.) Bee declares that it's "obvious from the first episodes of The Michael J. Fox show that Betsy Brandt can handle comedy."
• John Oliver talks to The Austin Chronicle about acting with Jonathan Banks — who will "always be a dead meth-dealing criminal called Mike" — on NBC's Community.
• Roadtrippers presents an "insanely cool" time-lapse video tour of Breaking Bad's iconic Albuquerque locations.
• World Property Channel reports that the house used as the White residence is "the newest tourist attraction" in Albuquerque.
• The Albuquerque Journal asks some of Breaking Bad's famous fans about the show.
• Business 2 Community offers "really smart" content marketing lessons from Vince Gilligan.
• Giancarlo Esposito narrated four spots for NBC promoting the 2014 Winter Olympic Games in Sochi, Ad Age says.
• WebProNews reports that Bryan Cranston voiced Apple's first ad for the iPad Air.
• According to The Jewish Journal, Bryan Cranston participated in a reading of The Magiker, a novel by Charles Dennis.
• Charles Baker will star in Eleven Eleven, a comedy sci-fi to be directed by Chris Redish, Broadway World reports.
• To stay up-to-date on the latest news about Breaking Bad, sign up for the weekly newsletter Breaking News.
Read More