Press
Dean Norris Discusses Hank's Death With THR; Rian Johnson Talks Directing "Ozymandias"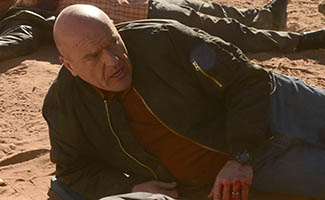 This week, Dean Norris shares the details of Hank's death with The Hollywood Reporter, while Rian Johnson discusses the responsibility of directing "Ozymandias" with The Hollywood Reporter and Rolling Stone. Plus, two of The Hollywood Reporter's Emmy icons are Bryan Cranston and Aaron Paul. Read on for more:
• Dean Norris reveals to The Hollywood Reporter what was going through his mind when he shot his final scenes: "That I was ending the show, that I was saying goodbye to Bryan [Cranston]. It all actually fed back into the loop of the scene because Hank was also saying goodbye to Walt."
• The Hollywood Reporter gets the inside scoop on "Ozymandias" from Rian Johnson, who shares his joy at filming in the RV and Baby Holly's amazing acting abilities.
• Rian Johnson tells Rolling Stone, "Just as a fan of the show, I was both incredibly grateful and also incredibly terrified of being given the responsibility of directing this particular episode."
• The Hollywood Reporter's Emmy icons include Aaron Paul (who calls Vince Gilligan "the kindest human being with such a messed-up mind") and Bryan Cranston (who describes winning the first of his three Emmys).
• Entertainment Weekly reports that "Ozymandias" pulled in 6.4 million viewers, making it the drama's most-watched episode ever. EW also calls it "one of the best episodes in Breaking Bad history — if not TV history."
• Entertainment Weekly and TV Guide go behind the scenes of "Ozymandias" with Moira Walley-Beckett, a co-executive producer of Breaking Bad who also wrote the pivotal episode. Of the last two episodes, she warns EW, "You're in for a couple of uncomfortable, extraordinary, nerve-shattering evenings."
• Rolling Stone learns from Bryan Cranston that before he and Aaron Paul knew the show's ending, "Aaron and I constantly teased each other: 'I bet I kill you.' And he'd go, 'No, no, no, I kill you.'" In part 2 of the interview with Rolling Stone, Cranston discusses Walt's actions.
• In an interview with Rolling Stone, Aaron Paul talks about missing Jesse: "It was the roughest day of my career, my final day of shooting on Breaking Bad, knowing that I will never be able to kind of zip on that skin again."
• Entertainment Weekly eulogizes Hank with the major turning points that "established him as a noble figure and, more importantly, a worthy adversary for Walt."
• The Hollywood Reporter revisits Hank's greatest moments, from killing Tuco to taking out the cousins.
• Rolling Stone chats with Dean Norris, who says he doesn't root for Walt because "I find it amazing that someone could root for a sick, twisted child-killer."
• The Hollywood Reporter highlights Saul's best moments over the course of the series.
• The New York Post speculates that the the American Repertory Theater's production of All the Way, starring Bryan Cranston, "could be a surprise entry in the spring frenzy on Broadway." Broadway World reports that the production is sold out.
• Bryan Cranston talks to Boston's WBUR about taking on Lyndon Johnson and how Walt, to a lesser degree, had "the same kind of dynamic sensibility, that his decision-making could create that environment of life and death." Robert Schenkkans, who wrote All the Way, tells ABC News why he cast Cranston.
• Philly.com showcases Joking Bad, a Breaking Bad satire by Jimmy Fallon that includes cameos by Bryan Cranston, Aaron Paul, Bob Odenkirk and Jay Leno.
• Anna Gunn talks to TV Guide about Breaking Bad's success, saying, "The show has skyrocketed in such a way that all of us are a bit stunned."
• TV Fanatic chats with Vince Gilligan, who says the final episodes are "going to leave us with some sleepless nights."
• Yahoo! TV interviews Michelle MacLaren about directing Season 5's "To'hajiilee" and "Gliding Over All" (for which she received an Emmy nod this year).
• Deadline reports that a Breaking Bad prequel spin-off centered on Bob Odenkirk's Saul Goodman is a go. Entertainment Weekly has some thoughts on what it wants to see from the spin-off, while Giancarlo Esposito tells TheWrap he'd welcome a Gus/Saul reunion.
• On Comedy Central's The Daily Show with Jon Stewart, Bob Odenkirk and David Cross joke about the ending of Breaking Bad.
• Bob Odenkirk tells The Hollywood Reporter he relished Saul getting beaten up by Jesse because "I'm incredibly, deeply amused by pretending to have a physical confrontation and fake blood on your face."
• Betsy Brandt shares with The Huffington Post that she felt "completely hungover" after watching "Ozymandias."
• Steven Michael Quezada talks to The Hollywood Reporter about Gomez's death: "I went out with a gun in my hand. I didn't get shot in the back. I didn't get melted in acid. I didn't get my throat slit. At least I was standing on my own two feet."
• Rolling Stone speaks with Giancarlo Esposito, who wishes for Walt "some extreme, poetic justice. The ending I want is to see his head on a pike."
• As Paul F. Tompkins's guest on Made Man's Speakeasy, Jonathan Banks discusses learning about Mike's death and shooting that final scene.
• Charles Baker, AKA Skinny Pete, tells AfterBuzz TV what Jonathan Banks said to him before shooting a scene: "This is our last scene today, and if you screw this up, I'm going to punch you in the heart."
• The Hollywood Reporter's round-up of TV's top tots now includes Holly White, played by Elanor Anne Wenrich.
• Forbes calls Breaking Bad "The Best. Show. Ever. And maybe too, one of the most important."
• MediaPost explains that Breaking Bad is an argument for watching a series the traditional way, "one show at a time, as it is telecast, with a span of a week or more between each episode."
• According to The Hollywood Reporter, Bryan Cranston will present at the Emmy Awards this weekend.
• Rolling Stone interviews Lavell Crawford, who talks about the "craziness" of Breaking Bad's popularity.
• The Atlantic imagines how William Shakespeare would end Breaking Bad.
• Salon argues there are two types of Breaking Bad viewers — those who "want retribution and punishment" for Walt and those who "want him to escape or at least get a clean death of his own choosing."
• WhatCulture! lists five mundane objects, like boxcutters and Fruit Loops, that Breaking Bad — "the greatest show of all time knocking anything else out of the water" — has changed forever.
• According to The Hollywood Reporter, "Ultimately, nothing in the history of Albuquerque… has put the city on the map like Breaking Bad."
• Time points out that Los Pollos Hermanos now has its very own (mock) Yelp page.
• Reuters reports there was an auction of Breaking Bad memorabilia over the weekend.
• Metro has a trailer featuring Bryan Cranston in Cold Comes the Night.
• Deadline reports that Aaron Paul will star in Kat Candler's indie drama Hellion.
• NBC's The Michael J. Fox Show, co-starring Betsy Brandt, is one of the new fall shows that Parade is excited about.
• The Hollywood Reporter lists the five most shocking quotes from "Ozymandias."
• For recaps and reviews of Season 5, Episode 14, "Ozymandias," check out A.V. Club, CBS News, The Daily Beast, Entertainment Weekly, E! Online, HitFix, The Hollywood Reporter, The Huffington Post, the Los Angeles Times, New York, The Oregonian, Salon, Slate, Time, TV Guide and The Wall Street Journal.
• To stay up-to-date on the latest news about Breaking Bad, sign up for the weekly newsletter Breaking News.
Read More