Press
Conan Hosts Vince Gilligan, Breaking Bad Cast; NY Times Applauds Drama Emmy Win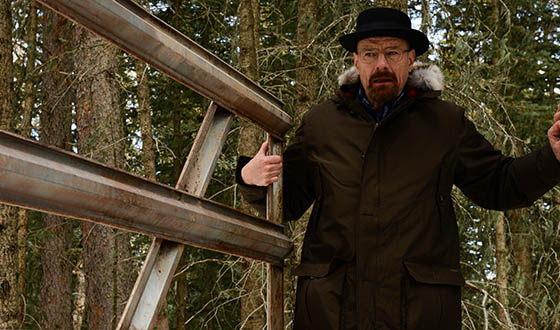 This week, Conan O'Brien gathers Vince Gilligan and several members of Breaking Bad's cast, while the series and Anna Gunn triumphed at the Emmys. Plus, "Granite State" is explained by its writer and director, Peter Gould. Read on for more:
• A day after the Emmys, Conan O'Brien has Vince Gilligan and the Breaking Bad cast on his program, marking "the first time the group has appeared together on a talk show," according to The Hollywood Reporter. The Los Angeles Times offers highlights and a link to the entire episode.
• As The New York Times puts it, Breaking Bad "finally earned the outstanding drama Emmy award that it had been denied for years." Broadway World has a transcript of Vince Gilligan's acceptance speech.
• Citing her Emmy win, The Huffington Post declares that Anna Gunn has "an extra reason to celebrate" during Breaking Bad's final season. Gunn also received kudos for her Emmy dress from the San Jose Mercury News, which called her look "simply sensational."
• "Granite State" is deconstructed by the episode's writer and director, Peter Gould, in Entertainment Weekly, The Hollywood Reporter, New York, Variety and TV Guide.
• Deadline has backstage Emmy comments from Vince Gilligan, Bryan Cranston and Anna Gunn, while the Daily Mirror rounds up the cast's triumphant tweets. USA Today tracked the whereabouts of Breaking Bad's cast and crew at various post-awards parties — and Us has an account of Dean Norris' post-Emmys dance-off with Derek Hough of Dancing With the Stars. Also, GQ names Cranston and Paul in its Emmy best-dressed list.
• Indiewire points out that The New Yorker's Sept. 30, 2013 cover features "a startled Walter White stumbling on an otherwise composed yet confounded Bashar Al-Assad as he sheepishly handles Walter's lab equipment."
• In its review, Boston's WBUR proclaims, "Bryan Cranston not only lives up to the hype as LBJ, but All the Way is a sensational night of theater." The Huffington Post says the play is an "opportunity to see one of the most intense actors on TV transform into President Lyndon B. Johnson and deliver again and again" a marathon three-hour performance.
• According to The Hollywood Reporter, Breaking Bad enjoyed yet another ratings high, drawing 6.6 million viewers for its penultimate episode, "Granite State" — "despite airing in one of the most crowded primetime arenas in months."
• At the Emmys, Bryan Cranston tells E! that the series finale is "perfect" and "unapologetic."
• Robert Forster speaks with The Hollywood Reporter about how he came to play "the disappearer" in "Granite State."
• In New York, Lost's Damon Lindelof argues that Heisenberg is just like Batman.
• New York reports that a Breaking Bad marathon starts this week on AMC, culminating right before the series finale airs.
• Ahead of the series finale, Rolling Stone chats with Anna Gunn, Bob Odenkirk, Betsy Brandt, RJ Mitte, Jesse Plemons and Jonathan Banks.
• Interviewed by NPR, Dean Norris says the writers "wrote me the best death the guy could have. He went out with dignity."
• A Funny or Die video, courtesy of Pedestrian TV, starring Dean Norris shows what happened after everyone left Hank for dead in the desert.
• RJ Mitte talks to New York about the worst day of Walt, Jr.'s life, as well as his character's interaction with Saul.
• Bryan Cranston tells RadioTimes.com that, down the road, "it would be fun to do a Lord of the Rings type trilogy where you're very involved and I'm able to spend a year and a half to two years in developing and playing a character."
• Anna Gunn reminisces with the Chicago Sun-Times about her years in the Windy City and shares, "I'd like to do a comedy. It's been quite a lot of heavy, intense drama for a long time."
• Aaron Paul talks to his hometown paper, the Idaho Statesman, about how much he loves Jesse and still misses him every day.
• Michelle MacLaren tells The New York Times she enjoys directing Breaking Bad's actors so much that "sometimes I forget to say 'cut' because I am so lost in the performance."
• New York interviews Jesse Plemons, who discusses Todd's interest in Lydia: "She's an attractive lady. It's not totally off-base that Todd would be interested after being around Nazis all day."
• Melissa Bernstein, Breaking Bad's co-executive producer, speaks with Forbes about Vince Gilligan's "perfect" pilot for the drama.
• The Huffington Post calls Laura Fraser "absolutely addictive as the oh so very bad, and sexy Lydia Rodarte-Quayle."
• In New York, Krysten Ritter writes, "You'd think I'd bear Walt some serious ill will considering he sat there and watched Jane die, but I'm still rooting for everything to work out for the guy."
• Media Life Magazine proclaims Breaking Bad "the most significant show ever on cable" and explains why.
• Forbes observes that Breaking Bad's final episodes have single-handedly "brought back live, in-person water cooler talk," with people actually talking, not just tweeting or posting or commenting online.
• Slate looks into it and yes, a paper clip can be used to unlock handcuffs, as Jesse did in "Granite State."
• Courtesy of New York, Rian Johnson tweets some behind-the-scenes photos from the shooting of "Ozymandias."
• Time takes a look at what the phrase "breaking bad" actually means.
• The Los Angeles Times calls TV shows like Breaking Bad the new novels.
• E! Online rates Breaking Bad's major deaths, using a "Sad Scale."
• According to The Hollywood Reporter, Bryan Cranston and Aaron Paul have brought in $1 million for charity with fundraisers surrounding the final season's episodes.
• The Winnipeg Sun's list of five scene-stealing supporting TV actors includes Dean Norris, who "makes a furrowed brow an art form."
• The New York Times reports that several iconic Breaking Bad props will be auctioned online, starting Sept. 29.
• The Portland (Me.) Press Herald reports on the upcoming release of a collection of essays on Breaking Bad's context, politics and style.
• WhatCulture has five characters it wants to return for the Saul spin-off.
• Entertainment Weekly has Jimmy Fallon's video of Matt L. Jones, who plays Badger, narrating the actions of the honey badger.
• According to Deadline, Bryan Cranston will take on the role of blacklisted screenwriter Dalton Trumbo in a film, called Trumbo, to be helmed by Jay Roach.
• People reports that Bryan Cranston will reprise his role as Ted Mosby's boss during the final season of CBS' How I Met Your Mother.
• The Hollywood Reporter rounds up the most heartbreaking quotes from "Granite State."
• For recaps and reviews of Season 5, Episode 15, "Granite State," check out A.V. Club, CBS News, The Daily Beast, Entertainment Weekly, HitFix, The Hollywood Reporter, The Huffington Post, Indiewire, the Los Angeles Times, New York, Salon, Slate, Time, TVLine, The Wall Street Journal and TheWrap.
• To stay up-to-date on the latest news about Breaking Bad, sign up for the weekly newsletter Breaking News.
Read More