Check Out Breaking Bad Story Sync This Sunday With Episodes 14, 15 and 16 (Series Finale)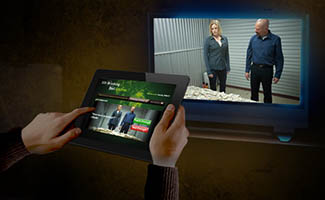 There's only one new episode of Breaking Bad left. That means this weekend is also your last opportunity to participate in the show's Story Sync. The award-winning two-screen experience allows you to vote in polls, answer trivia and watch video during select broadcasts of episodes. For this Sunday ONLY, www.amc.com is giving you three chances to join in the action with the encore of Episode 514 (6:39PM ET/PT) and Episode 515 (7:45PM ET/PT) as well as the premiere broadcast of the Series Finale, Episode 516 (9PM ET/PT). Log on to breakingbadstorysync.com via your tablet, smart phone, laptop or desktop when you tune in to AMC for the broadcasts. The rest will take care of itself.
Click here to participate in Breaking Bad Story Sync.
Having trouble? Make sure that…
• Javascript is enabled on your Internet browser
• Your Internet browser is up to date (Sync will not work in Internet Explorer 6 or 7)
• You have a strong Internet connection
Read More