Press
Bryan Cranston Talks LBJ to Boston Globe; Breaking Bad Return Is THR Summer Highlight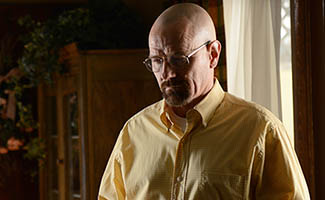 This week, The Boston Globe speaks with Bryan Cranston about his theatrical endeavor this fall, while The Hollywood Reporter names Breaking Bad's return as one of the summer's highlights. Plus, Dean Norris discusses Hank and Jesse's alliance with The Daily Beast. Read on for more:
• Interviewed by The Boston Globe about playing Lyndon Johnson on stage this fall, Bryan Cranston observes that Walt is "becoming this iconic figure, and I really have to step away from that and let him go so I can move on." Cranston also speaks with Playbill about switching from TV to theater.
• Breaking Bad's return is one of the 10 greatest things that happened on TV this summer, according to The Hollywood Reporter.
• Dean Norris talks to The Daily Beast about similarities between Hank and Jesse: "He realizes this kid has been manipulated and burned by Walt, and Hank has just felt that himself."
• Sam Catlin, who penned and directed "Rabid Dog," deconstructs the episode with New York and The Hollywood Reporter.
• When asked by The Telegraph about Breaking Bad's ending, Bob Odenkirk answers, "Consequences everywhere, bloody, bloody, horrible consequences." Collider.com learns from Odenkirk that being part of Breaking Bad is "literally like winning the lottery."
• Aaron Paul tells ShortList that a Skinny Pete and Badger spinoff would be "brilliant."
• HitFix names Breaking Bad a summer TV winner, noting that "the episodes we've seen so far have been among the most gripping and powerful of the series to date."
• Media Life Magazine pronounces Breaking Bad one of summer TV's winners because the final season is "shaping up to be a ratings hit."
• Vince Gilligan speaks with Ireland's RTÉ TEN about his surprise that "the show has been accepted and appreciated as it is." Speaking with Irish Independent, Gilligan confesses he doesn't know why Breaking Bad is so popular: "I guess there is a certain visceral enjoyment we get from bad guys or anti-heroes." Also, Gilligan talks to The Huffington Post about the work it took to hash out Breaking Bad's ending.
• Crave Online asks George Mastras about the Breaking Bad writers room, as well as directing and writing this season's "Dead Freight."
• According to TheWrap, the Mexican restaurant featured in last week's "Confessions" is enjoying a surge in table-side guacamole orders.
• Vince Gilligan will attend the 2013 Vancouver International Film Festival later this month, says BC Local News.
• Bob Odenkirk and David Cross's upcoming book, Hollywood Said No!, is one of USA Today's pop culture picks.
• Broadway World reports that Steven Michael Quezada will perform this Sunday at Denver's Comedy Works Downtown.
• The Hollywood Reporter examines five key quotes from "Rabid Dog."
• For recaps and reviews of Season 5, Episode 12, "Rabid Dog," check out A.V. Club, Entertainment Weekly, E! Online, Forbes, HitFix, The Hollywood Reporter, The Huffington Post, Indiewire, New York, Rolling Stone, Salon, Slate, Time, TVLine and Zap2it.
• To stay up-to-date on the latest news about Breaking Bad, sign up for the weekly newsletter Breaking News.
Read More