Press
Vince Gilligan, Dean Norris Deconstruct Episode 9 "Blood Money"; THR Interviews Anna Gunn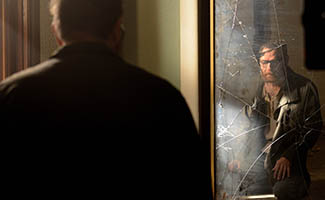 This week, TV Guide, New York and The Daily Beast discuss the most recent episode with Vince Gilligan and Dean Norris, while Anna Gunn breaks down Skyler with The Hollywood Reporter. Plus, Aaron Paul reveals all in a Reddit AMA. Read on for more:
• Vince Gilligan and Dean Norris discuss Season 5 Episode 9 with TV Guide, with Gilligan noting, "Hank is in a real tough spot. It's a horrible, profound betrayal by someone who he loves very much. It's also embarrassing [for] a sworn officer of the law."
• Talking to New York, Vince Gilligan explains Hank and Walt's confrontation as "What better than Walt being on to Hank, who is on to Walt?"
• The Daily Beast interviews Vince Gilligan, who applauds Dean Norris's performance in the premiere's final scene: "He played that scene so beautifully. I think it's one of the finest scenes he's ever played for us."
• Dean Norris is TVLine's Performer of the Week: "If the intensity of Norris' portrayal is a portent of things to come," says the site, "Walt, watch your back."
• In an extensive interview with New York, Dean Norris says Walt is Hank's blind spot, because Hank "had an image in his mind of a drug kingpin, and it sure as hell wasn't his milquetoast brother-in-law."
• Anna Gunn tells The Hollywood Reporter what she loves about Skyler: "Even when she was most terrified of Walt, she still quietly held her ground." Gunn also spoke with The New York Times earlier in the month.
• Aaron Paul, participating in a Reddit Ask Me Anything, shares that one of his favorite scenes was "the infamous dinner scene with Mr. and Mrs. White" in Season 5's "Buyout."
• Variety contends that Breaking Bad will be the launching pad for many members of the drama's creative team.
• The New York Times, reporting that 5.9 million people watched Breaking Bad's premiere, nearly twice the previous ratings high, notes that "few shows more than double their audience in their final season."
• The Los Angeles Daily News profiles Kevin Cordasco, to whom Episode 9 was dedicated.
• According to Anna Gunn, speaking with U.S. News and World Report, Skyler "knows that there are decisions she's made that she can't undo, and that lives in her as a cold fear that dwells in the bottom of her stomach."
• What are the five best quotes from the premiere? The Hollywood Reporter submits its choices.
• New York consults an expert about Badger's "impressively long love letter to Star Trek" in Episode 9.
• Vince Gilligan, talking about the anxiety surrounding the final episodes, tells RadioTimes.com the series finale plot wasn't decided "until about a month or a couple of weeks before we wrote it."
• Bob Odenkirk AKA "Breaking Bad's resident shyster Saul Goodman" watches some low-budget lawyer commercials with New York. Also, Odenkirk speaks with Roe & Roeper.
• Teen Vogue interviews RJ Mitte, who says, "The thing with Breaking Bad is that everything you see is 100 percent authentic."
• Slate declares, "Justice always finds the man who thinks that he can live forever. It will find Walter White, too."
• The Hollywood Reporter, wondering who will survive the final season, admits, "I wish, with all of my critical fibers, for Walter White to survive the end credits."
• The Huffington Post posts a Funny or Die video featuring Dean Norris spoiling "the outcomes of just about everything that could steal your attention away from Breaking Bad."
• Courtesy of The Hollywood Reporter, check out Walt speaking the lyrics to "My Way," with "tweaks to the original lyrics, such as 'I face it all, and I call Saul.'"
• The New York Daily News chooses Breaking Bad's five greatest moments, likening the effort to "trying to pick the greatest flavors of ice cream."
• TV.com lists the 10 worst things that have happened to Jesse, who "became the moral compass of a show that's very rarely had such a thing."
• The Chicago Tribune showcases the "awesome" outtakes from Aaron Paul and Vince Gilligan's appearance on the Breaking Bad-themed episode of the Discovery Channel's Mythbusters.
• Uproxx asks for some sympathy for Gus.
• Forbes examines the seven tactics and strategies used by Vince Gilligan "to morph an improbably dark idea into the greatness that is Breaking Bad."
• The Hollywood Reporter highlights the five best Breaking Bad parodies.
• ABC News comes up with five Breaking Bad spin-off ideas "so that we won't have to say goodbye to the absurd, hilarious suburban nightmare Vince Gilligan has created."
• Uproxx compiles Season 4's best GIFs.
• Someecards.com recaps the first half of Season 5 in Facebook posts.
• Yahoo! lists the 10 reasons it loves Aaron Paul, "who charms us at every turn."
• Advertising Age has some commercials that Aaron Paul did, pre-Breaking Bad.
• Breaking Bad's fans love the show — and their tattoos prove it (courtesy of Flavorwire).
• For recaps and reviews of Season 5, Episode 9, "Blood Money," check out The Atlantic, A.V. Club, Business Insider, CBS News, The Denver Post, Entertainment Weekly, E! Online, Esquire, Flavorwire, HitFix, The Hollywood Reporter, The Huffington Post, Indiewire, New York, New York Daily News, The New Yorker, Rolling Stone, Salon, Slate, Time, TVLine, The Week and Zap2it.
• To stay up-to-date on the latest news about Breaking Bad, sign up for the weekly newsletter Breaking News.
Read More