Press
THR Says Breaking Bad One of TV's Top 5; TVLine Names Dean Norris Week's Best Performer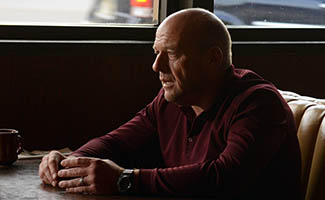 This week, Breaking Bad is described as one of TV's top all-time dramas by The Hollywood Reporter, while Dean Norris is TVLine's performer of the week. Plus, Betsy Brandt talks to TV Guide and New York about "Buried." Read on for more:
• The Hollywood Reporter makes the case for why Breaking Bad is one of the top five dramas of all time and why "there's a good argument for it landing in the top three."
• Dean Norris is named TVLine's performer of the week, citing his midseason performance: "If the intensity of Norris' portrayal is a portent of things to come… Walt, watch your back."
• Chatting with New York about Marie's intense scene with Skyler in "Buried," Betsy Brandt observes, "That family, that relationship, that 'we'll stand together' sisterhood, is gone in that moment." Brandt also talks to TV Guide about the episode.

• TV Guide's top moment of the week is from Breaking Bad, when Walt warned Hank to "tread lightly" at the end of Episode 9.
• Talking to Rolling Stone, Dean Norris says that Bryan Cranston's direction of Episode 9 was "really key" to making the episode's final scene work.
• Aaron Paul is interviewed by Rolling Stone, which calls Breaking Bad "a tale of how Jesse Pinkman transforms from Jeff Spicoli to Scarface's surrogate son." [No Link]
• Aaron Paul's live chat with the Los Angeles Times reveals that, after reading the final script with Bryan Cranston, "We just looked at each other for, no joke, probably 10 or 15 seconds with tears in our eyes, not wanting to believe it's done."
• Speaking with IGN about Episode 9, Aaron Paul calls Jesse's money "blood money to him. He just wants to get rid of it. So you obviously can tell the headspace he's in right now."
• The New York Times speculates that Breaking Bad's hotly-anticipated final episodes could lead to near-record cable TV ad rates for the limited commercial time still available.
• Mad Men's Matthew Weiner and other top showrunners explain to Co.CREATE why Breaking Bad is so good. Weiner says, "What Vince can do with a small space and a limited environment to create tension is very impressive."
• Brother-and-sister writing duo, Breaking Bad's George Mastras and Mad Men's Maria Jacquemetton, talk to The Hollywood Reporter about their respective AMC shows competing for the best drama Emmy.
• Discussing how Walt and Jesse escaped from Hank in the RV in Season 3, Vince Gilligan tells TheWrap, "That took seven of us, I think, three or four days straight to figure out how to get out of that one."
• Vince Gilligan tells TV Guide that Walt's lung cancer is "a very insidious thing and you never know when it's going to rear its ugly head."
• Vince Gilligan tells reporters that, with Breaking Bad's ending, "being able to scrape the remnants of Walter White away has been probably a healthy thing," according to The Hollywood Reporter.
• People reports that Aaron Paul called 10 of his Twitter followers on Sunday to celebrate "Happy Breaking Bad day."
• According to The Guardian, Vince Gilligan theorizes why many viewers still sympathize with Walt.
• Variety examines how actors who play anti-heroes, like Breaking Bad's Bryan Cranston, are able to keep the audience invested.
• Speaking with Deadline, Anna Gunn pinpoints Skyler's "Heisenberg moment" and Aaron Paul says he now has "zero rush to jump into everything and anything" career-wise.
• Charles Baker does an interview with The Hollywood Reporter where he talks about Skinny Pete playing the piano on Breaking Bad and what he's learned from Bryan Cranston.
• Talking to the New York Post, Laura Fraser characterizes Lydia as "a calculating businesswoman and she's mildly sociopathic." Fraser also tries to be very careful about not giving up any spoilers to RedEye Chicago.
• Courtesy of TheWrap, members of the Breaking Bad cast share the backstories they created for their characters.
• NewsCastic has the story of the actor in "Buried" with the mustache that "puts Tom Selleck's mustache to shame and makes Hulk Hogan's mustache beg for mercy."
• The Boston Globe praises Michael Slovis, Breaking Bad's cinematographer, for the show's look.
• The Huffington Post compiles a mash-up of "The Many Faces of David Costabile" and observes that Gale was his most memorable role to date.
• Entertainment Weekly counts the ways that Walt is just like Scrooge McDuck.
• Newsday looks at the "profound" role that cars play on Breaking Bad.
• TheWrap reports that the GPS coordinates in "Buried" lead not to a location in the middle of the desert but to ABQ Studios, where Breaking Bad was shot.
• Cinema Blend has a Funny or Die video featuring RJ Mitte, Mad Men's Marten Holden Weiner and Alessandra Ambrosio.
• The Wall Street Journal takes a look at the writers who recap TV show episodes, including Breaking Bad's recapper at A.V. Club.
• The Independent observes that what Vince Gilligan "has created is something beyond the box – a true 'water-cooler' event."
• PopMatters recaps Breaking Bad's Season 3, Season 4 and the first half of Season 5, episode by episode.
• Metro jokes about why it's not good that Breaking Bad is back.
• From Kenneth the Page to Scarface — on Conan, Jack McBrayer does his best imitation of a Breaking Bad drug lord.
• Business Insider showcases a video of Breaking Bad redone as a romantic comedy.
• Bob Odenkirk is joining the cast of Kitchen Sink, a film directed by Robbie Pickering, according to Deadline.
• According to Deadline, Jesse Plemons has been cast in an HBO miniseries titled Olive Kitteridge.
• The Hollywood Reporter compiles the best quotes from "Buried."
• International Business Times showcases "Buried" in GIFs.
• For recaps and reviews of Season 5, Episode 10, "Buried," check out The Atlantic, A.V. Club, The Boston Globe, CBS News, Entertainment Weekly, HitFix, The Hollywood Reporter, MTV, New York, New York Daily News, The Oregonian, Philly.com, Rolling Stone, San Jose Mercury News, Slate, Time, The Wall Street Journal and The Washington Post.
• To stay up-to-date on the latest news about Breaking Bad, sign up for the weekly newsletter Breaking News.
Read More