Press
THR Backs Breaking Bad for Best Drama Emmy; Anna Gunn Pens Op-Ed on Skyler for NY Times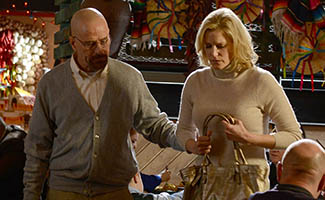 This week, Breaking Bad gets The Hollywood Reporter's backing for the outstanding drama series Emmy, while Anna Gunn writes in The New York Times about the audience reaction to Skyler. Plus, Dean Norris takes a stab at spoiling Breaking Bad's ending. Read on for more:
• The Hollywood Reporter believes that Breaking Bad will and should win this year's best drama Emmy — and that the situation's the same for the "deserving" Aaron Paul in the drama supporting actor category. Anna Gunn should also win: "She earned it. It's hers."
• Anna Gunn pens an op-ed for The New York Times about "the vitriolic response" inspired by Skyler. IGN also defends Skyler, writing an essay on "why Skyler's amazing," while Slate points out that not everyone hates Skyler.
• In a Funny or Die video, Dean Norris presents his version of the end of Breaking Bad, courtesy of /film.
• Betsy Brandt tells Rolling Stone she shot both Breaking Bad and The Michael J. Fox Show at the same time for a few weeks "and it felt like I was cheating on everybody at Breaking Bad."

• Dean Norris's take on Breaking Bad's upcoming ending? "Satisfaction," according to a Q&A he did with TVLine. In an extended interview with Pedestrian, Norris says that in the final episodes, "I get to play with everybody in the sandbox and have fun and I appreciate it."
• Rolling Stone interviews Bob Odenkirk, who talks about Saul's three-dimensional quality: "He's a sleazy guy, he's a shallow guy, he's chasing money, but when his back is against the wall, you can see humanity leak out."
• One of Entertainment Weekly's on-target pop culture events this week was Lydia "staging a meth-lab coup in Louboutins." [No Link]
• Laura Fraser describes Lydia to The Wall Street Journal as a character who's "supposed to be somebody who gets on your nerves."
• While teaching a master class at Edinburgh TV Fest, Vince Gilligan credited David Chase for paving the way for the so-called golden age of TV, according to The Hollywood Reporter. The Guardian also recounts some of Gilligan's anecdotes from the event, and Den of Geek has a report too.
• Vince Gilligan speaks with The Irish Independent about his top three Breaking Bad moments, the show's ending and how Marie was originally supposed to shoot a UPS delivery guy.
• Gennifer Hutchinson is interviewed by New York and The Hollywood Reporter about Season 5, Episode 11, "Confessions," which she wrote.
• George Mastras talks to the Los Angeles Times about Season 5's Dead Freight, an episode he wrote and directed and garnered him an Emmy nod.
• The Huffington Post offers a history of Breaking Bad's ricin, "including why it was made, where and how it has changed hands and what prompted Jesse's semi-confusing realization in 'Confession.'"
• The Hollywood Reporter showcases a gallery of Breaking Bad's 20 most chilling lines so far. Plus, The Hollywood Reporter's readers vote for "I Am the One Who Knocks" as Breaking Bad's best line.
• Scientific American interviews Donna Nelson, Breaking Bad's science advisor, who says her students seem more interested in science now because of the show.
• Albuquerque's KUNM speaks with Breaking Bad's line producer, Stewart Lyons, about the show's Albuquerque location.
• According to TheWrap, the Belize Tourism Board has invited the cast for a real trip to Belize.
• The Hollywood Reporter compiles the five key quotes from Season 5, Episode 11, "Confessions."
• For recaps and reviews of Season 5, Episode 11, "Confessions," check out A.V. Club, CBS News, Entertainment Weekly, E! Online, Forbes, HitFix, The Hollywood Reporter, The Huffington Post, Indiewire, New York, The Oregonian, San Jose Mercury News, Time, TV Guide and The Wall Street Journal.
• To stay up-to-date on the latest news about Breaking Bad, sign up for the weekly newsletter Breaking News.
Read More