Press
Bryan Cranston Visits Leno, Kimmel, Colbert; NPR Interviews Bob Odenkirk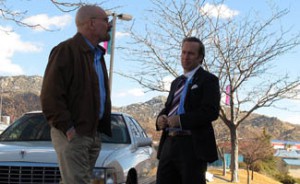 This week, Bryan Cranston does the talk show rounds, with Jay Leno, Jimmy Fallon and Stephen Colbert, while Bob Odenkirk has an extensive conversation with NPR. Plus, Breaking Bad superfan Warren Buffett compliments Walt's business acumen. Read on for more:
• Bryan Cranston sits down with Jay Leno on The Tonight Show and declares that the final episodes are like the "downward slide of a roller coaster. Your arms are up, you're screaming. It goes quickly." He also chats about Argo and the Power Rangers.
• Jimmy Fallon uses Bryan Cranston's custom Heisenberg mask to interview Bryan Cranston on Late Night with Jimmy Fallon. Rolling Stone watched the whole thing.
• Stephen Colbert gets Bryan Cranston to admit that his work on the Power Rangers TV series led to the "birth of Heisenberg." Rolling Stone has an account of the interview.

• Speaking at length with NPR, Bob Odenkirk talks about Saul's strategy: "He manipulates these pieces on the chessboard, trying to make as much money in the end, for himself, [as] he can. It's a laugh to him."
• BuzzFeed catches up with Breaking Bad's No. 1 fan, billionaire Warren Buffett, who describes Walt as "a great businessman."
• Vince Gilligan extols the glories of New Mexico, especially Albuquerque, to The New York Times: "It's amazing how close to town you can be in Albuquerque and still get amazing cinematic visual desolation." The Los Angeles Times estimates that Breaking Bad spent about $1 million per episode in Albuquerque.
• HitFix and USA Today report that Breaking Bad won Program of the Year at the Television Critics Association awards. The Las Vegas Guardian Express says the drama "deservedly claimed the coveted program of the year" award at the ceremony.
• CraftBeer.com reports that Albuquerque's Marble Brewery released a second Breaking Bad-themed beer this week, "Walt's White Lie." ("Heisenberg's Dark" was the first.)
• In an extensive interview with HitFix, Vince Gilligan and Bryan Cranston tease that "Walt's mendacious abilities are at the top of their form" in the Midseason Premiere.
• Bryan Cranston talks to BuzzFeed about his post-Breaking Bad life, which will hopefully include directing a screenplay that's "very Breaking Bad in tone, with some sick humor connected to it."
• New York has a gallery of Bryan Cranston and Aaron Paul's "effusive friendship."
• Speaking with the New York Daily News, Anna Gunn says that Skyler "understands too late that she lost her moral compass." Gunn also tells Backstage that "the phenomenal Vince Gilligan" is the secret to the show's success.
• Uproxx discusses why Anna Gunn is the person on Breaking Bad "who looks like an unrecognizable knockout, and might be the best show's best actor."
• Keith Richards (of the Rolling Stones) is a Breaking Bad fan, according to the Daily Mail. Dean Norris tells RadioTimes.com about meeting Richards — and about the "tremendously satisfying ending."
• The Associated Press, profiling Dean Norris, says the actor "has brought depth and nuance to his character, emerging as fully the equal of his fine fellow cast mates." The Guardian visited the Breaking Bad set and learns from Norris, "We don't limit ourselves to naturalism and realism; sometimes we're surreal."
• Entertainment Weekly presents its definitive list of the best episodes to watch for understanding Hank, "the show's moral compass." Plus, Dean Norris's Hank is the focus of an Uproxx post on why he is "the only primary character who hasn't crossed the line into moral hazard at any point throughout the series."
• Discussing Breaking Bad's end, Betsy Brandt tells Yahoo! TV, "I do miss [Marie]. Her good qualities, and her not-so-good qualities. I miss them all." Brandt talks to The Huffington Post about everything in the final episodes being "very real and true and honest to the show." Also, Brandt chats with A.V. Club about her favorite episode, Season 1's "Gray Matter."
• RJ Mitte speaks with A.V. Club about a pivotal scene in the series pilot, while SB Nation interviews Mitte, who jokes that the whole series was "all Walt Jr.'s imagination because actually Walt did die of cancer, and this is all a dream of Walt Jr. coping to keep his father alive in his mind."
• Entertainment Weekly lists its take on the five best Saul episodes. Talking to Channel Guide Magazine, Bob Odenkirk theorizes that Saul "had no scruples until he was tied to a guy who genuinely had no scruples, and then Saul discovered that he has limits."
• CarterMatt.com has video of Anna Gunn, RJ Mitte and Bob Odenkirk speaking about Breaking Bad for a panel hosted by the Film Society of Lincoln Center. Entertainment Weekly shares tidbits from the panel, as well as a subsequent conversation with Bryan Cranston, while The Huffington Post has more from Cranston as well as a video of his Q&A. Spoiler TV has videos of all the panels, including one with Vince Gilligan and another with Dean Norris and Betsy Brandt.
• Variety speaks with Breaking Bad's cast ahead of a celebration of the series in New York.
• Breaking Bad's composer, Dave Porter, shares with The Hollywood Reporter four musical cues to listen for in the final eight episodes.
• The Sioux City (Ia.) Journal's review of the first episode back calls Breaking Bad "the kind of television that makes the medium matter." The Orlando Sentinel calls the Midseason Premiere "a dramatic workout for Dean Norris," while the Orange County (Calif.) Register thinks it "promises a fantastic finish." [No Link]
• Ahead of the final batch of Season 5 episodes, TV Guide features a video of Vince Gilligan, Bryan Cranston, Aaron Paul, Dean Norris and others catching viewers up on where the series left off.
• Zap2it lists eight reasons to catch up with the series before Aug. 11.
• Noting that Breaking Bad will be judged by how "its writers wrap up the story," The Wall Street Journal takes a look at where the main characters stand as the final episodes begin.
• Entertainment Weekly showcases an eight-minute catch-up Breaking Bad video.
• Breaking Bad gets its own Honest Trailer, comprised of "all the awesome moments from the gritty series," according to The Hollywood Reporter.
• Flavorwire lists Breaking Bad's dozen "essential episodes."
• Business Insider compiles the Breaking Bad's 15 best quotes — and has a list of what makes the show "one of the best on television."
• Check out Blood Sweat and Cheers for a Breaking Bad-themed combined workout and drinking game.
• Michael Slovis, Breaking Bad's cinematographer, spoke at the Montclair Film Festival about the cinematic quality of TV today and Breaking Bad in particular.
• Discussing Breaking Bad's unique camera angles and look, Vince Gilligan tells Bloomberg TV, "I like the idea of composing shots in a more cinematic fashion for the folks that have those big TV's."
• Uproxx has a season-by-season supercut of the "from below" shots that Breaking Bad "has become famous and notorious for using."
• Uproxx compiles Season 2's best GIFs, and Heavy has the series' 20 "awesomest" memes.
• Time muses about the morality of Breaking Bad, concluding, "What matters is that the series keeps showing, clear-eyed and movingly, how evil happens and how its consequences are felt." Similarly, New York warns, "The reckoning is coming. Balance must be restored."
• The Chicago Sun-Times traces Walt's descent, season by season.
• According to Miami New Times, Vince Gilligan thinks Walt broke bad in the Season 1 episode where he refuses Gretchen and Elliott's money and chooses to make meth with Jesse instead: "That was where the character truly got interesting for me. This guy's got some serious pride issues."
• Rolling Stone judges the best kills of Walt and Co.
• A Nerdist writers panel features Vince Gilligan.
• Bloomberg Businessweek examines the "riveting critique of professional leadership" that is Breaking Bad.
• The Albuquerque Journal has a photo and the locations of the Albuquerque billboards put up by Breaking Bad to thank the city for its part in the show.
• Number one on A.V. Club's list of TV characters that were supposed to be killed off early is Jesse.
• Uproxx, recognizing that "the Internet has a deep fascination with Aaron Paul's pre-Breaking Bad filmography," provides screenshots of most of his movie and TV roles.
• The Huffington Post shares four ways that fans can get their Breaking Bad fix ahead of the final episodes.
• Comic Book Resources reports that The Walking Dead's Danai Gurira shared at a Comic-Con panel that the show she'd most like to work on (other than her own) is Breaking Bad.
• A Walt bobblehead is now available for pre-order, The Awesomer says.
• According to The Hollywood Reporter, Bryan Cranston will voice a character on one of FOX's "Animation Domination" shows this fall.
• To stay up-to-date on the latest news about Breaking Bad, sign up for the weekly newsletter Breaking News.
Read More